The Mercury News Announces Slaughterbeck Floors as "Best Flooring Company" in the Best in Silicon Valley 2016 Reader Poll

Each year, The Bay Area News Group hosts a poll known as Best in Silicon Valley for readers to vote for the best businesses in the East Bay. With 105 categories to vote for, the 14th annual Best in Silicon Valley poll by The Mercury News is bigger and better than before. From the best food, drinks, and entertainment to best shopping, home services, beauty, health, recreation places, and much more, the options are vast.
Even with extensive Bay Area flooring businesses to vote for, Slaughterbeck Floors had the wonderful opportunity to take home the "Best Flooring Company" award!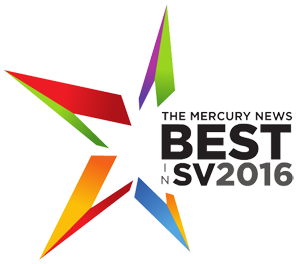 Take a sneak peak of what the Mercury News has written about us:
Last year in the Greater San Jose area, Slaughterbeck Floors installed more than 350 hardwood floors, each with a unique artistic twist incorporated by owner Joan Slaughterbeck. Given her love of interior design, Joan says she loves a challenge. Unique floors include a recycled log floor, a hand-painted zebra floor and a Red Oak floor with luxury vinyl tile inserts. If it's flooring material, Slaughterbeck Floors installs it; options include environmentally responsible "green flooring" and a variety of carpeting.
– The Mercury News
Slaughterbeck Floors is truly thankful for each and every one of our fans, customers, and friends who voted. As a family owned and operated business, excellent quality and personalized customer service has always been our main focus. We will continue to bring you the finest flooring for your home or business and the best service in the Bay Area!