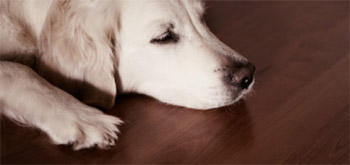 Americans spent almost $51 billion on their pets in 2011, but pets still give much more than they receive. According to a study by the Journal of the American Geriatrics Society, independently living seniors who have pets are more active, cope better with stress, and tend to have better physical health and mental well-being than those who don't.
In fact, residents at an experimental residential home for the elderly, called the Eden Alternative, have experienced a 15% increase in longevity compared to residents at traditional nursing homes. The key difference? The facility and its grounds are home to dozens of dogs, cats, birds and rabbits.
So how can you return the favor? Start by registering your pet with a service like www.PetAmberAlert.com, a site that claims an 85% success rate in finding and reuniting lost animals with their owners, if the alert goes out in the first week. The service immediately places automated calls to neighbors, sends faxes to local shelters and veterinarians, and posts notices to Twitter and Facebook.
We realize this has nothing to do with floors, but sometimes we want to share some helpful ideas with you. This is one of them.