Triangulo Hardwood Flooring
May – Featured Floors
Triangulo is a Brazilian flooring manufacturer specializing in high quality exotic hardwood floors. Since 1972, the Triangulo group has been dedicated to the industrialization of wood. They have control over the entire process of hardwood floor manufacturing from responsibly managing and preserving the Brazilian rain forest to producing some of the best exotic wood flooring that are ready to be installed in your home.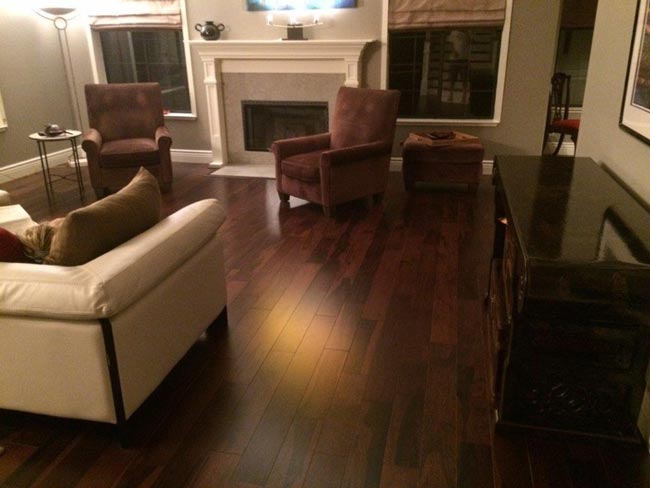 Triangulo's Brazilian Pecan Engineered Hardwood Floors in the color Coffee installed in Fremont, CA by Slaughterbeck Floors
With more than 280 square miles of private FSC-certified forest, a mark of responsible forestry, Triangulo is committed to environmental sustainability and providing superior quality wood floors. Their hardwood floors offer advantages in not only aesthetics, but also value and functionality.
Stop by the Slaughterbeck showroom in Campbell, CA to witness the beauty of Triangulo's engineered hardwood floors produced from Brazilian exotic wood species in person.
Create a Bold Statement with Your Home
Upgrading your floors with hardwood is a rewarding investment that easily increases the value of your home. Many homeowners and businesses often choose domestic wood species due to convenience. However, exotic wood floors such as Triangulo's Brazilian wood floors take elegance and value even further.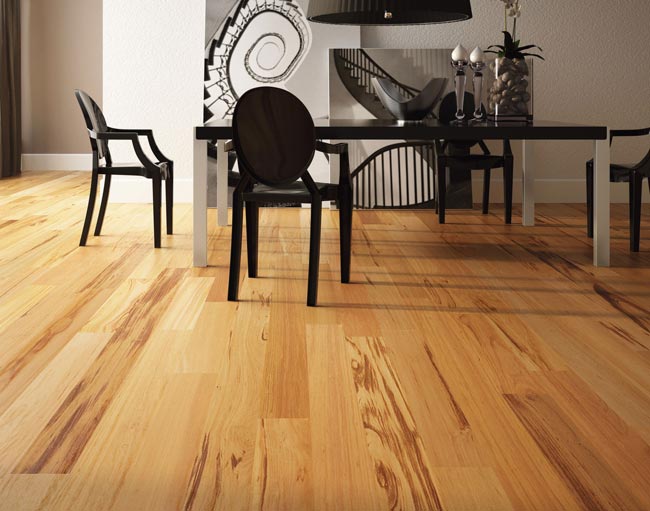 Brazilian Tigerwood Engineered Exotic Hardwood Floors by Triangulo
Exotic wood species are prized for their striking and bold visual appeal. They come in a wide range of eye-catching colors and grains while domestic woods are more common in appearance with less distinctive features. Because of their unique pattern variations, exotic woods can easily create a one-of-a-kind, contemporary look in any home compared to the traditional look domestic woods provide. In addition, because of their rarity and the resources required to import them, exotic woods are more expensive and valuable than domestic woods.
Triangulo's Striking Exotic Hardwood Floors
Discover some of Triangulo's most popular Brazilian exotic engineered hardwood floors:
Brazilian Walnut: Available in wide plank with extra long board lengths, this popular hardwood is remarkably dense with exquisite graining. This versatile style offers moderate to high color variations from yellowish tan with a hint of green overtones to blackish brown.

Brazilian Teak: The Teak consists of a thick wear layer for extra stability and durability. It creates attractive patterns with striking contrasts due to the natural, distinctive graining with blonde and tan characteristics mixed with dark brown striations.

Brazilian Cherry: This best-selling exotic wood is available in wide plank with extra long board lengths for versatility. The unique grain pattern of this species combined with a classic blend of brown, russet, and gold tones creates a rich and natural warm vibe that compliments any home.

Brazilian Tigerwood: This species is also available in the popular wide plank style along with the option of extra long board lengths. The Tigerwood is unique in that no two boards have the same stripes and graining. This species got its name from the reddish orange tones with varying bold veins resembling tiger stripes. If you're searching for a one-of-a-kind bold statement, this species is definitely perfect for your home.

Amendoim: With a thick 3mm wear layer, you'll get not only stability, but also durability. This is another best-selling exotic species that offers elegant warmth with its special swirling grains made of tan to brown undertones.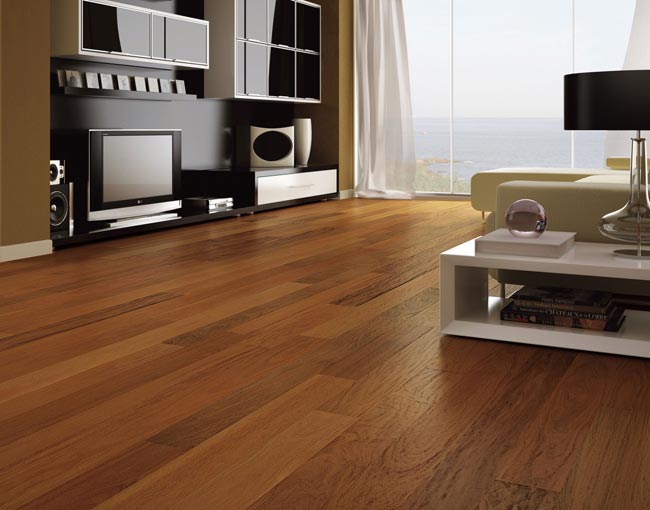 Brazilian Walnut Engineered Exotic Hardwood Floors by Triangulo
Unmatched Functional Advantages
Triangulo's exotic hardwood floors are not only visually stunning, but also highly functional. Throughout the years, Triangulo has developed the best engineering process for manufacturing hardwood floors. To increase the overall strength of the wood planks, the layers underneath the real wood is glued under pressure in varying directions. This special construction provides exceptional stability at every angle. Triangulo's engineered hardwood floors also consist of a thick wear layer and a scratch resistant aluminum oxide finish for additional performance and protection.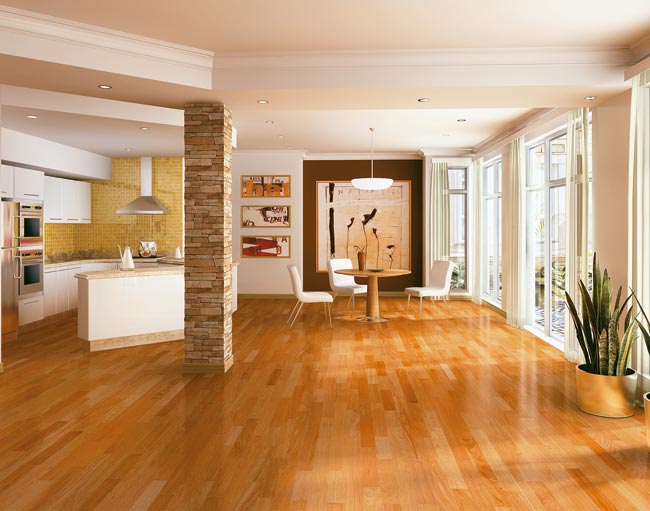 Brazilian Cherry Engineered Exotic Hardwood Floors by Triangulo
Besides the manufacturing process for extra durability, exotic wood species are naturally much more durable than domestic woods. The majority of them rank higher on the Janka Scale compared to domestic species. The Janka Scale is an indicator of a wood species' hardness. The higher the value, the more durable and long-lasting the wood species is. That means it's less likely to dent and wear, which requires less refinishing services.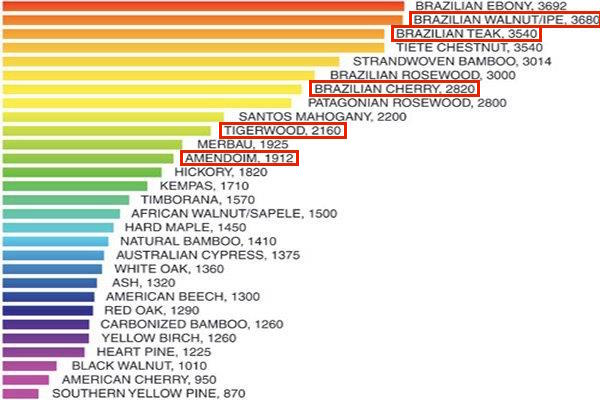 The Janka Scale with Triangulo's exotic wood species highlighted in red
Triangulo's Commitment to the Environment
Triangulo is an excellent example of sustainable forestry management. Even with the increasing demand for exotic wood species, they are continually recognized for positive environmental contributions and sustainability. Triangulo's FSC certification for their private forest ensures their exotic woods are grown responsibly in a way that benefits the environment rather than harming it.
In addition, they have full control over the entire hardwood floor manufacturing process from responsibly growing the forest to harvesting lumber and producing the final product. This tight operation control is advantageous as it ensures their hardwood floors are compliant with the Lacey Act, a law in the U.S. that prohibits the selling of plants and wildlife that have been involved in illegal trafficking.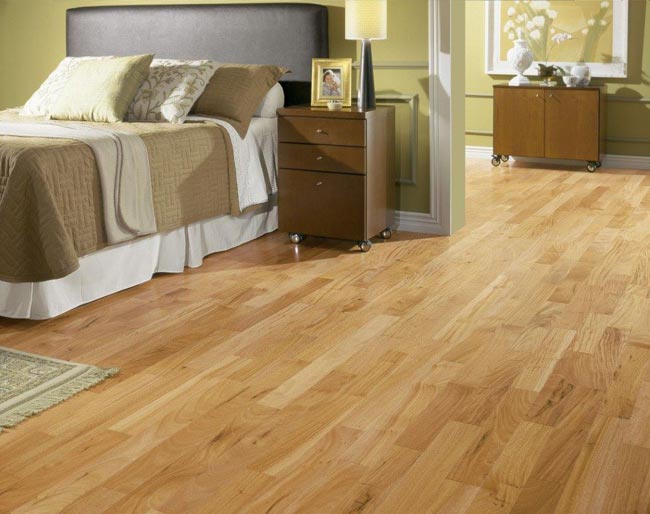 Amendoim Engineered Exotic Hardwood Floors by Triangulo
Taking their commitment to the environment a step further, Triangulo's engineered hardwood floors are CARB Phase 2 compliant products, which indicate the levels of toxic formaldehyde the floors emit are well within safety limits.
Call Now!
In addition to upgrading your home with the stunning visual attractiveness of Triangulo's Brazilian engineered exotic hardwood floors, rest assure that your floors originate from an environmentally-friendly source and are safe for you and your family. Contact us to learn more about the different types of Triangulo's exotic wood species we carry!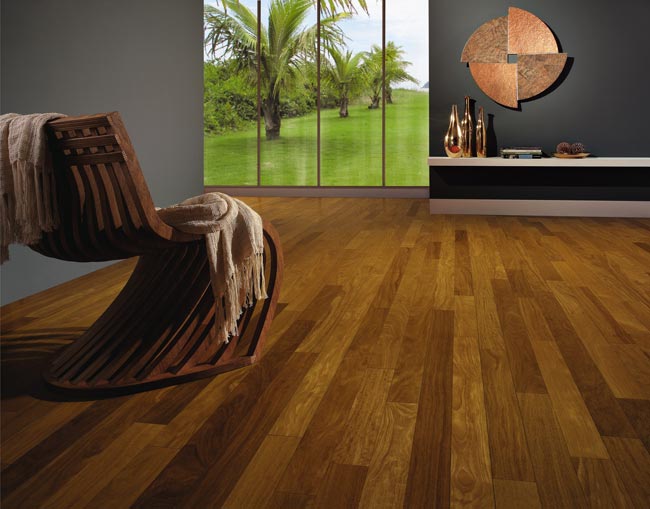 Brazilian Teak Engineered Exotic Hardwood Floors by Triangulo