We have many different types of wood flooring to choose from, so it's often best to visit our showroom to see them. It's open Monday through Friday from 8:00 a.m. to 5:00 p.m. or Saturday from 10:00 a.m. to 2:00 p.m.
Domestic
Domestic Wood is something we are all familiar with. The most common Domestics are Red Oak, White Oak, Maple, Pine, Ash, Beech, Birch, Cherry, Fir and Walnut. Domestic wood is also recycled to produce a unique look such as Antique Heart Pine.
Exotic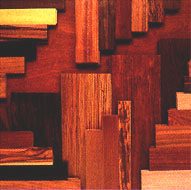 Exotic Wood is imported. Australian Beech and Cypress, Bolivian Rosewood, Brazilian Cherry, Bubinga, Jarrah, Mahogany, Merbau, Tasmanian Oak and Teak are just a few of the Exotics you can look at in our showroom.