Slaughterbeck Floors, Inc.
Winner of the Best of Houzz 2016 Client Satisfaction Award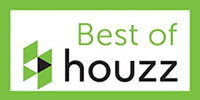 Campbell, California, January 11, 2016 – Slaughterbeck Floors, Inc. has won the Best of Houzz 2016 Client Satisfaction Award. Bagging the same award three years in a row, and garnering a total of 6 Houzz badges since their inception to the online community, Slaughterbeck Floors Inc. continues to provide high quality flooring services in the state of California.
The Best Of Houzz is awarded annually in three categories: Design, Customer Service and Photography. Design award winners' work was the most popular among the more than 35 million monthly users on Houzz. Customer Service honors are based on several factors, including the number and quality of client reviews a professional received in 2015. Architecture and interior design photographers whose images were most popular are recognized with the Photography award. A "Best Of Houzz 2016" badge will appear on winners' profiles, as a sign of their commitment to excellence. These badges help homeowners identify popular and top-rated home professionals in every metro area on Houzz.
"Our family-owned flooring business has stood the test of time. In business since 1974, we are one of the longest standing flooring businesses in the San Jose area. Located in Campbell, California; we specialize in Hardwood Floors (prefinished or finished in place), but are equally proficient in carpet, vinyl, linoleum, luxury vinyl tile, epoxy & cork!"
–Joan Slaughterbeck, Campbell, CA