What is WPC Flooring Made Of?
WPC is mistakenly called WaterProof Core – even by experts – but it stands for Wood Plastic Composite.
WPC flooring is known for its layers of material which offer superior comfort and stain resistance.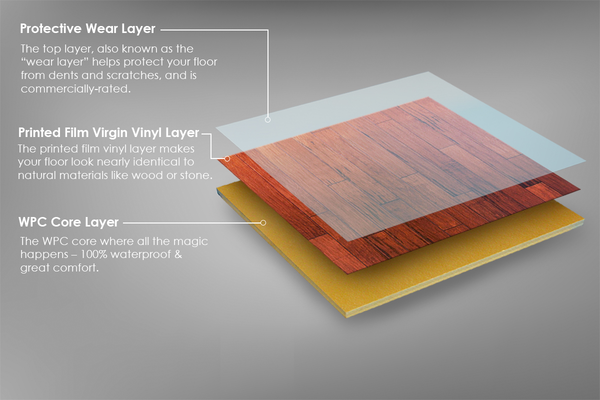 Protective Wear Layer:
The top layer, also known as the "wear layer" helps protect your floor from dents and scratches, and is commercially-rated.
Printed Film Virgin Vinyl Layer:
The next layer is a printed film vinyl layer makes your floor look nearly identical to natural materials like wood or stone.
WPC Core Layer:
The WPC core is where all the magic happens. The core is made by combining wood pulp, plasticizers, and foaming agents. The dense and durable core is waterproof and will not ripple, swell, or peel no matter how much liquid it's exposed to.
Cork Underlayment (only on some floor coverings):
The attached cork underlayment absorbs sound & offers additional flexibility for uneven subfloors.
Planks of the WPC floors can even be dunked in water!
Here's Joan giving a WPC board The Dunk Test:
WPC Waterproof Flooring Advantages
Wood Plastic Composite floors are some of the most versatile, durable, and beautiful flooring options available today.
Because it's waterproof it's suitable for environments where laminates or hardwood floors aren't typically used, like bathrooms and basements. It can be installed in large rooms with more ease and consistency than traditional laminates. It provides cushion and comfort. WPC flooring combines the strength and beauty of hardwood flooring with the resilience, maintainability, and affordability of virgin PVC floors.