100% Waterproof Flooring
Kids, Pets & Spills are no Match for WPC Waterproof Flooring
Wood Plastic Composite (WPC) flooring
is a new product in the flooring market. It makes a great hard-surface option for home and light commercial applications.
It is frequently being referred to as WPC vinyl flooring, it is a cross between laminate flooring and luxury vinyl plank flooring.
The word "wood" is in the name, but WPC is a composite material and does not contain much wood. It has the look and texture of wood or stone – but with the added benefits of cutting-edge flooring technology and engineering.
WPC is mistakenly called WaterProof Core – even by experts – but it stands for Wood Plastic Composite.
What is WPC Flooring Made Of?
WPC flooring is known for its layers of material which offer superior comfort and stain resistance.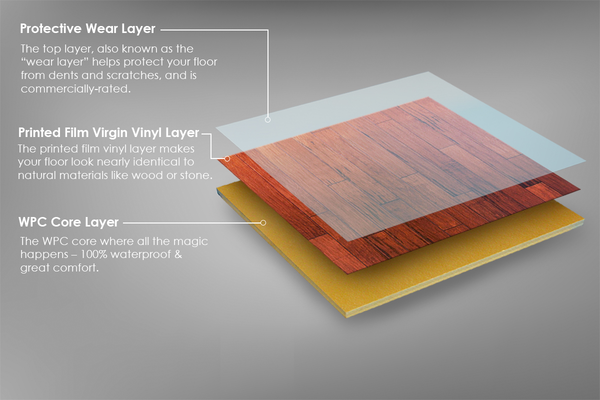 Protective Wear Layer
The top layer, also known as the "wear layer" helps protect your floor from dents and scratches, and is commercially-rated.
Printed Film Virgin Vinyl Layer The next layer is a printed film vinyl layer makes your floor look nearly identical to natural materials like wood or stone.
WPC Core Layer The WPC core where all the magic happens. The core is made by combining wood pulp, plasticizers, and foaming agents. The dense and durable core is waterproof and will not ripple, swell, or peel no matter how much liquid it's exposed to.
Cork Underlayment (only on some coverings) The attached cork underlayment absorbs sound & offers additional flexibility for uneven subfloors.
Planks of the WPC floors can even be dunked in water!
Here's Joan giving a WPC board The Dunk Test:
WPC Waterproof Flooring Advantages
Wood Plastic Composite floors are some of the most versatile, durable, and beautiful flooring options available today.
Because it's waterproof it's suitable for environments where laminates or hardwood floors aren't typically used, like bathrooms and basements. It can be installed in large rooms with more ease and consistency than traditional laminates. It provides cushion and comfort. WPC flooring combines the strength and beauty of hardwood flooring with the resilience, maintainability, and affordability of virgin PVC floors.

100% Waterproof

Subfloor Agnostic

Won't Warp

Superior Durability

Affordable
WPC floors are:
100% Waterproof
Can be installed over most subfloors
No ripples, swelling, or peeling when exposed to liquids
Thick durable wear layers offer superior protection
30 – 40% the cost of hardwood flooring
WPC Flooring Manufacturers
We carry samples of several WPC flooring manufacturers in our showroom, including:
Aquarius by Medallion
Sono by Inhaus
Gemcore by Reward Flooring
Floorte by Shaw
Earthwerks
Fusion
WPC Floor Maintenance
Luxury flooring like wood, stone, and carpeting need a lot of care and attention to keep their stellar appearance.
On the other hand, WPC flooring only needs occasional vacuuming and some spray mopping.
It's pet, child, and visitor friendly. The top layer makes it stain resistant so you never have to scramble for the stain remover when a spill happens. Stains are not able to set in and become permanent. If you want a luxury floor without the stress and pressure of maintenance, then a WPC floor is a great option.
Is WPC Flooring Right for You?
If you want the look of hardwood or stone floors minus the cost and maintenance issues, WPC flooring is a great choice, especially for high-moisture areas like kitchens or bathrooms.
WPC floors are also great for rental properties – they look like expensive wood flooring but without the price tag; and are versatile to withstand the wear and tear of tenants.
If you have any question about WPC flooring or would like a free quote give us a call today. Visit our flooring store in Campbell to see and touch WPC flooring samples in person!
Our flooring technicians install WPC flooring in San Jose, San Mateo Counties and all surrounding areas including Los Gatos, Saratoga, Campbell, Palo Alto, and Los Altos.