Laminate Flooring
Laminate flooring is a practical, long-lasting floor covering for a variety of rooms and lifestyles. Laminate floors can be found in a broad array of colors and designs, letting you get stylish without the cost of and care associated with hardwood flooring.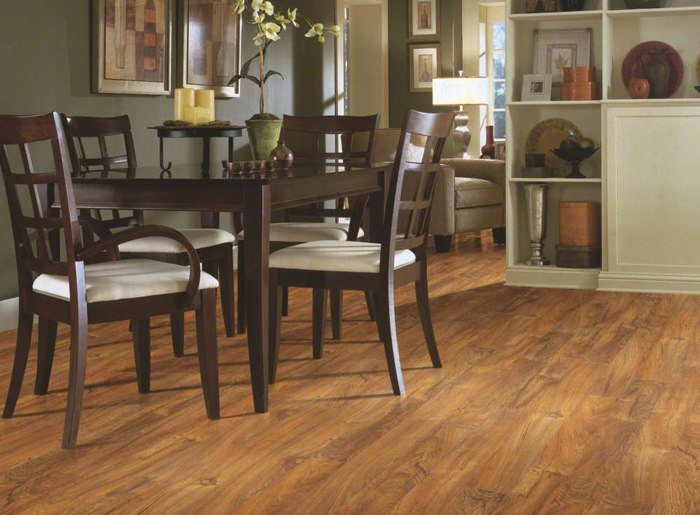 Laminate Flooring – Americana Colt SL204 by Shaw Floors
What is Laminate Flooring?
Laminate flooring is commonly manufactured by joining multiple layers of material to create a strong, durable flooring plank.
The top layer is a protective wear layer with a transparent finish that is resistant against scratches, staining, and fading.
The following layer is a high definition image that realistically mimics wood or stone.
The core layer is composed of high-density fiberboard that provides strength and moisture resistance.
The bottom backing layer provides additional stability and moisture resistance.
The end result is a laminate tile or laminate wood flooring that realistically simulates tiles and hardwood floors while offering numerous functional advantages.
Plenty of Affordable Design Options
Today's choices in laminate flooring are as wide as you can imagine. Laminates are available in much more styles than just traditional wood finishes. You can select from laminates that beautifully mimic stone or ceramic tile, as well as a wide array of colors and patterns, including bright, sunny colors and intricate modern or retro patterns. You can design and own the floor of your dreams no matter how unique. There is a laminate flooring option out there to match your personal interior design vision, from classic to contemporary.
Compared to hardwood floors or ceramic tiles, laminate flooring is much less expensive than hardwoods and costs a fraction of tiles. You can have the look you desire without breaking the bank. Its durability means it can last for many years, making the material very economic, with manufacture warranties of up to 30 years.