Laminate Flooring
Laminate flooring is a practical, long-lasting floor covering for a variety of rooms and lifestyles. Laminate floors can be found in a broad array of colors and designs, letting you get stylish without the cost of and care associated with hardwood flooring.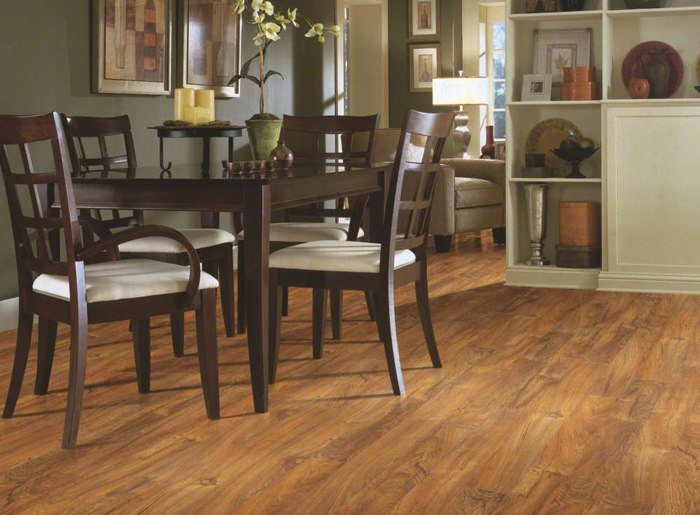 Laminate Flooring – Americana Colt SL204 by Shaw Floors
What is laminate flooring?
Laminate flooring is commonly manufactured by joining multiple layers of material to create a strong, durable flooring plank.
The top layer is a protective wear layer with a transparent finish that is resistant against scratches, staining, and fading.
The following layer is a high definition image that realistically mimics wood or stone.
The core layer is composed of high-density fiberboard that provides strength and moisture resistance.
The bottom backing layer provides additional stability and moisture resistance.
The end result is a laminate tile or laminate wood flooring that realistically simulates tiles and hardwood floors while offering numerous functional advantages.
Plenty of Affordable Design Options
Today's choices in laminate flooring are as wide as you can imagine. Laminates are available in much more styles than just traditional wood finishes. You can select from laminates that beautifully mimic stone or ceramic tile, as well as a wide array of colors and patterns, including bright, sunny colors and intricate modern or retro patterns. You can design and own the floor of your dreams no matter how unique. There is a laminate flooring option out there to match your personal interior design vision, from classic to contemporary.
Compared to hardwood floors or ceramic tiles, laminate flooring is much less expensive than hardwoods and costs a fraction of tiles. You can have the look you desire without breaking the bank. Its durability means it can last for many years, making the material very economic, with manufacture warranties of up to 30 years.
Quick & Simple Installation
Installing a laminate floor is a quick and simple process that does not require a lot of preparation. The flooring can be installed or "floated" over existing flooring that is clean and dry or directly to a subfloor like plywood or concrete. This special property eliminates the cost, time, and hassle of removing old flooring. Laminates do not require time to get acclimated to the room's humidity and temperature and can be walked on immediately once installed.
Yes, laminate flooring is an option for those committed to having a "green" home. From manufacturing to installation and disposing of laminates, the entire process is environmentally friendly. Inner layers of laminates are comprised of recycled natural resources rather than harvested from new raw natural materials. The simple floating floor installation of laminates eliminates the need of glues and adhesives that can emit volatile chemicals to the environment. Lastly, at the end of its lifetime, laminate floors can be reused or recycled.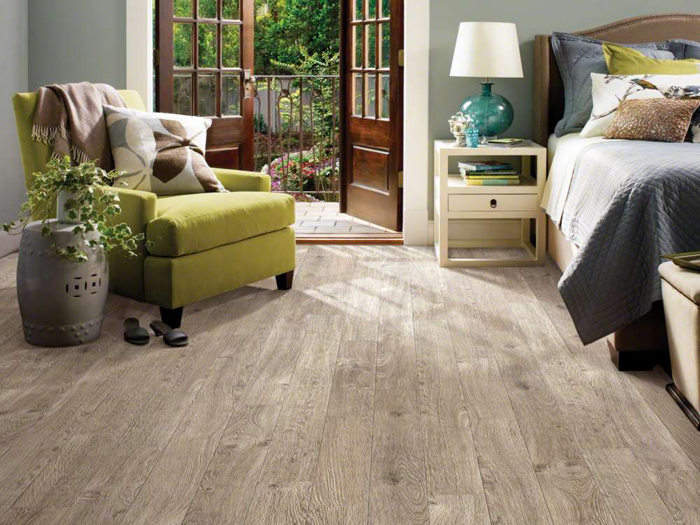 Laminate Flooring – Avenues SL081 by Shaw Floors
Durability is a hallmark of laminate flooring. Laminates are wear-resistant and will not fade over time compared to hardwood, marble or carpet flooring. This characteristic makes them ideal for both high traffic areas and rooms that get a lot of direct sunlight such as entryways, family rooms, sunrooms and more. Laminate flooring is also resistant to scratches and stains. This is due to a protective top layer of hard resin that helps keep the material looking fresh and new. Its durability makes laminate an excellent flooring option for pet and family-friendly homes. Additionally, laminates will not expand or contract like hardwood floors, so they will last quite a long time before needing a replacement!
Laminate floors are very low maintenance with basic cleaning. Only periodic sweeping or vacuuming is needed to keep the floor clean. There is no need for polishes or waxes like with hardwood floors and you will not need to vacuum as often as with a carpeted room to keep up with dirt buildup. As long as spills are cleaned up immediately, keeping laminate floors clean is a breeze. Even if your laminate floor is damaged, you can simply replace that plank with a new one with the easy floating installation method rather than replacing the entire floor.
The same outer resin layer that makes laminates so durable is also non-porous; thus, dust and dirt will not get trapped in the floor. It is also resistant to mold. Laminate floor's hypoallergenic property makes it a great choice for those suffering from allergies and asthma.
Laminate Flooring Considerations
Although laminates realistically mimic hardwood and tiles by appearance, some may notice a difference in the sound and feel of laminates. Some may find that laminate floors sound hollow compared to hardwoods, and do not have the same feel or texture as a hardwood or tile. However, you can opt for a thicker laminate reduce the hollow sound. When taking into account comfort, laminates are warmer and less harsh on the feet than tiles or ceramics.
Learn More!
Visit the Slaughterbeck Floors flooring showroom in Campbell to see for yourself the wide variety of laminate floors in San Jose! Pick up any samples from wood laminate flooring to contemporary laminate tiles to other types of floor covering like exotic hardwood floors, luxury vinyl flooring, linoleum, cork floors, carpet, and more!
With over 30 years of experience, our friendly staff will help you navigate the options and find the floor that suits your tastes and budget.
Read over 180 Reviews from Our Satisfied Customers: