Our Hardwood Floors Win Awards.
Our motto is simple – quality floors you can stand on.
This is especially true when it comes to the details of our specialty:
HARDWOOD FLOORING.
We are THE most experienced hardwood flooring store in the San Jose Bay Area and you'll know it once you talk with our staff about your project. Many of our hardwood flooring installers have been with us for over 20 years and their seasoned craftsmanship is reflected in the way your new wood floors will fit the intricate details of your home's space, seamlessly forming with sharp corners, curves, steps and transitions to other rooms or flooring types.
Here are a couple of our favorite wood flooring projects that we completed for homeowners in the San Jose area. Both of these projects won local remodeling awards, something we love to collect and showcase in our showroom!
If you're looking to update your home or business, hardwood floors are one of the smartest upgrades you can make. A nearly endless selection of styles and types of wood meet ultimate function. Hardwood floors are not only beautiful, but can also drastically increase the value of your property.
Add High-End Looks & Lasting Value to your Home by Exploring the World of Hardwood Flooring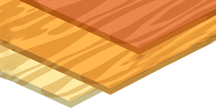 Types of Hardwood Flooring
There are 2 basic types of wood floors: solid and engineered. More: Types of Hardwood Flooring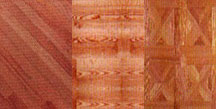 Styles of Hardwood Floors
Strip, Plank and Parquet flooring—check out which style is right for you! More: Hardwood Flooring Styles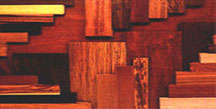 Species of Wood
Domestic Woods and Exotic Species all have different looks and characteristics. More: Hardwood Flooring Species
Hardwood Flooring Finishes
Learn about Factory Finished (pre-finished) & job-site finish (finish-in-place). More: Hardwood Flooring Finishes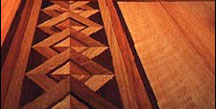 Customizations
Personalize your hardwood floors with decorative inserts, borders & medallions. More: Hardwood Flooring Customizations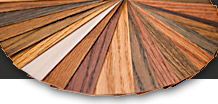 Hardwood Flooring Suppliers
Find out the special features each of our hardwood suppliers offer. More: Hardwood Flooring Suppliers
Hardwood Floors can Transform your Ordinary Space into a Timeless Natural Oasis with Style & Function that Seamlessly Fits any Room
Hardwood floors are one of the smartest upgrades you can make.
In fact, the reasons why you'll love wood floors in your home or business are endless. There's a reason they are and have been the most popular floor covering around.
Here's a Sampling of What Wood Flooring Offers For Your Home or Business:
Increases property value and appeal that draws in buyers and makes your home easier to sell at a higher price when the time comes. Research from USA Today showed 54% of buyers are willing to pay more for hardwood floors; on average, $2,080 more.
Many wood flooring manufacturers we carry are environmentally-friendly, coming from renewable forests.
Hardwood floors in San Jose and surrounding areas are great for allergy sufferers or homes with pets. Wood is hypoallergenic, so it won't hold onto dust and other allergens. And it makes it easy to clean up accidents and spills.
Year-round comfort with wood flooring that stays warm in chilly months of the Los Gatos mountains and cool in the hot summers of San Mateo and San Jose.
Depending on the wood species, it's softer on the feet and joints than tile or stone.
Hardwood flooring offers classic elegance and a wealthful appearance with the enduring beauty and structural integrity of hardwood.
Design versatility with an array of shades, species, custom design inlays, custom floor layouts/patterns and finishes that let you easily match your current style or create a new look throughout the room.
Extreme durability that holds up well even in high-traffic areas and can be refinished with minimal effort and cost. Hardwood floors can easily last for generations.
The Advantage of Working with Slaughterbeck Floors
Slaughterbeck Floors in Campbell, CA has been in business providing San Jose hardwood floors and other types of flooring for over 30 years. Our service area includes San Mateo County, Santa Clara County and limited areas of Alameda County.
Our staff is our strength. Whether you're speaking with Joan, Jim, Sherry or Dominic, you'll have a wonderful guide to educate you on hardwood flooring options and helping you decide which floor covering is right for you.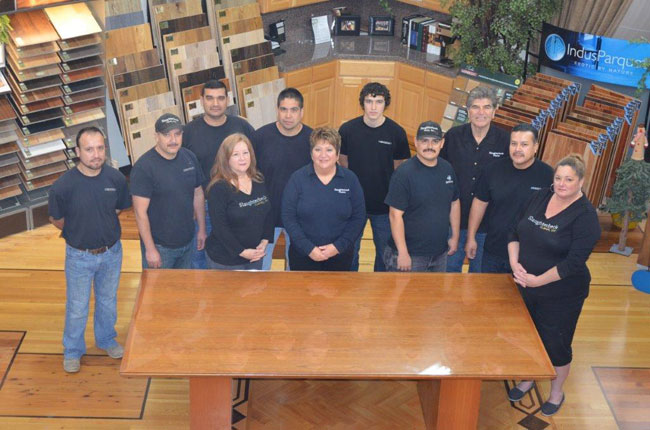 Stop by our flooring showroom in Campbell to explore our wood flooring samples!
We carry over 35 species of wood from over 25 manufacturers.
Come in to view samples and take some home to see how well they harmonize with your décor.
Read over 180 Reviews from Our Satisfied Customers:
Hardwood Flooring Alternatives
Cork flooring is easy to maintain and adds unique style and warmth to any room like wood flooring. This environmentally friendly material is also noise reducing and naturally resistant to bacteria, moisture, allergens, and insects.
Carpeting offers an endless selection of colors, fibers, textures, and more to give your room a cozy, comfortable atmosphere without sacrificing style.
Luxury Vinyl Tile is the modern day tile flooring. LVT offers versatile designs from stone to marble and wood while allowing its forgiving surface to be comfortable and durable.
Linoleum flooring is one of the most environmentally friendly flooring options and is known for durability, easy maintenance, and hygienic properties.
Vinyl flooring is low maintenance and its exceptional durability is perfect for high traffic areas such as kitchens, bathrooms, and utility rooms because of its scratch, dent, stain, and water resistance characteristics.
This page was last updated on October 16, 2018