Our staff is our strength. Whether you're speaking with Joan, Jim, Sherry or Dominic, you'll have a wonderful guide to educate you on hardwood flooring options and helping you decide which floor covering is right for you.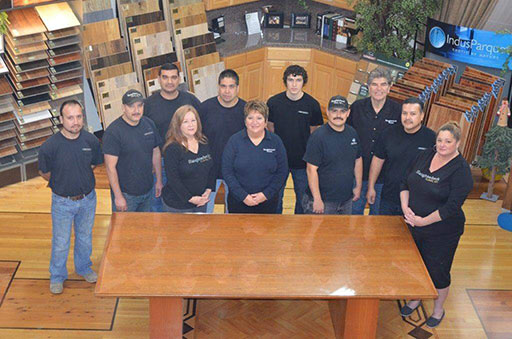 Stop by our flooring showroom in Campbell to explore our wood flooring samples!
Important Information
on Wood Job-Site Installations and Refinishes
The following information is provided to answer frequently asked questions about wood installation and finishing. Please read this information carefully. If you have any additional questions, please call or e-mail us.
What Does the Installation Process Look Like?
During the installation process, the floor can be walked on, but expect some dust and noise while the floor is being installed. Remember that your floors are "under construction". Dust protection is the homeowner's responsibility, though we assist you with general dust protection. Fabrics highly sensitive to fine dust should be covered separately, but we will help you with general dust protection, hanging plastic from major openings to the area we are working in. Areas close to the installation will require dusting and cleaning. After the completion of the floor installation, we use a wood filler to fill in any cracks or gaps in the wood. Following this process, the wood needs to sit at least one week to acclimate to the humidity or moisture levels in your home. However, you can walk on the floors during this time.
What Does the Sanding Process Look Like?
We sand your floors down to a uniform level, and dust and noise are created during this part of the finishing process. During this process you can't walk on the floors until the finish process is completed. If you are considering a "refinish" to your existing hardwood floors, this is where we begin working with you.
What Does the Staining Process Look Like?
After the sanding is completed, the floor is vacuumed and ready to be stained if a stain or color is to be applied. We can provide you with several color samples to choose from, and stain selection will be done on the newly sanded floor while you watch and approve the stain color. Remember, lighting and wall color sometimes affect the stain color.
What Does the Finishing Process Look Like?
After the stain is applied or if the floor is to be natural (with no stain or added color), the first coat of finish is applied. Most floors are finished with an oil-based polyurethane finish and a very durable finish. Slaughterbeck Floors applies three coats of finish, and between each coat, we "screen" the floor and inspect it for any cracks and fix them. Humidity and other moisture factors will affect drying time, however usually we do a coat a day. Base and trim are usually installed between the second and third coats of finish. Other types of finishes are water-based and Swedish, also known as conversion-varnish finishes.
What Does the Curing Process Look Like?
After 24 hours, you can walk on your new floor in stocking feet only. After 72 hours, you can walk on the floor in soft-soled shoes. At this time, you can begin to put furniture in place, but do not drag it on the new floor. Curing is usually complete after 30 days, then you can put area rugs down on the floor.
What Does the Recoats Process Look Like?
A recoat is a new coat of finish applied to the floor without sanding down to the raw wood. It is a way to restore the floor's "luster". Your floor will not accept a "recoat" if there is any oil or wax residue on the floor. This is important to remember if you wish to consider future "recoats". Each homeowner is responsible for his or her own floor's acceptance of a "recoat".