Carpeted Stairways
Carpeted stairways are a great option for multi-story homes. The carpeting is softer on the feet and quieter when walked on, ideal for late-night snackers that need to keep family members and little ones sleeping soundly!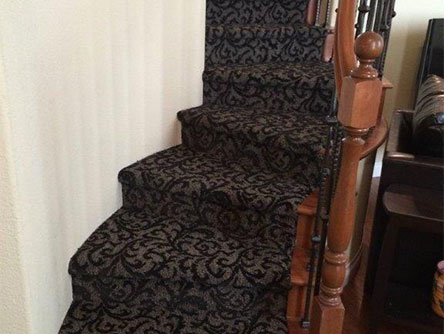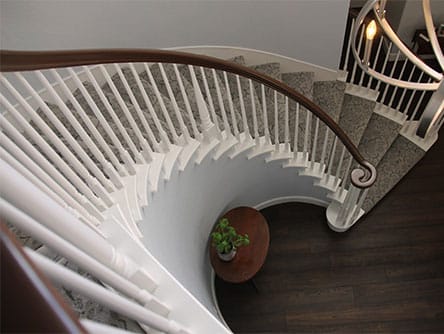 They are popular for homeowners that want to have the timeless look and easy-to-maintain wood or other non-carpeted floors (solid hardwood, engineered wood, laminate, LVT, etc.) in the entertaining space downstairs while transitioning to the warm comfort of carpeting in the bedrooms upstairs.
The contrast of the carpets to the hardwood creates a great look when ideally paired.
Carpets can also offer more traction when walked on compared to wood – that means less slips and falls.
Carpeting materials are affordable, as well as the easiest to install, making them the most affordable option on this list.
They do come with their cons, however. One negative of carpeting on stairs is cleaning and maintenance. Vacuuming the corners is more challenging than with hardwood on stairs and will need to be done more regularly. These nooks and crannies can more easily capture dust and allergens. Carpeting also has a shorter life-span than alternatives, depending on usage of course, compared to alternatives.
More: Read more about carpeting here.
Hardwood for Stairs
Using hardwood for your stairs is perfect for creating a seamless and elegant look for your downstairs and upstairs floors, particularly when the same floor is used throughout the home.
Both solid hardwood and engineered wood work well for stairs. Solid hardwood gives you additional stain/finish options, while opening the possibility of refinishing (sand/finish) in the future to make them look new again. Engineered hardwood (with very few exceptions) cannot be refinished but comes prefinished from the factory.
There are several options for stairs with wood floor boards.
Stair Tread & Stair Nose
First comes the stair treads. The tread is a solid piece of wood that is the horizontal portion of the stair – what you step on. Which stair tread is used depends on the type of stairwell and aesthetic preferences. Sometimes we are also limited by the floor chosen and what the manufacturer has in supply.
The edge of the tread, called the stair nose or the bull nose, comes in different shapes.
Stair noses provide a finish for the edge of the step, covering the exposed edges of the vertical (riser) and horizontal (tread) portions of the steps. They create a safe and comfortable step to walk on, while offering a number of design options.
Most commonly, they are rounded or squared, but they can also be flush or overlapping. The stair nose is back filled with the rest of the wood flooring, unless a stair tread is used, making the entire stair/tread a solid piece.

Rounded Stair Nose

Square Stair Nose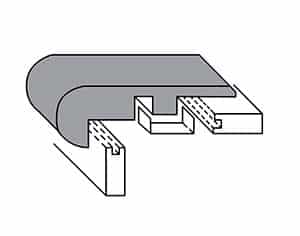 Overlapping Stair Nose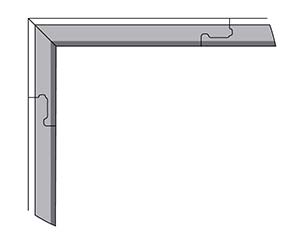 Flush Stair Nose
The rounded bull nose is the most traditional look, while the square and flush noses are common choices for more modern aesthetics.
Overlapping stair noses are required in most floating floor applications, as they allow the floor to expand and contract (but there are some manufacturers that offer flush-mount noses). Overlapping stair noses overlap the stair tread, creating a little lip at the edge of the stair. This lip also helps prevent slips, while also giving the stair a "bordered" or "framed" look.
Square stair noses create a square look as opposed to the rounded stair nose. A flush nose creates no lip on either the riser or tread, creating a perfect 90 degree angle. The flush nose option is not commonly offered by many flooring brands.
There are some other rare stair noses, like an adjustable height stair nose, which we frequently find with luxury vinyl floors. The mini stair nose will adhere to the front of the step, either flush with the riser (creating a similar look to a rounded nose) or on top of the riser (something similar to an overlapping stair nose).
Furthermore, if the stairwell is open, with no border or walls on the side(s), then the tread will also need to be finished in a certain way on the sides to match the front of the tread. This is called a tread with a return.
Stair Risers
The stair riser is the vertical portion of the stair and comes in a couple different options.
Wood plank risers are when the same wood as the stair tread is used for the riser.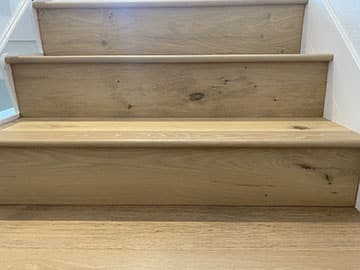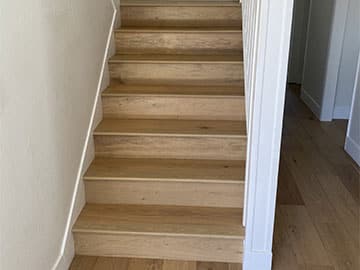 Wood Board Risers: Provenza European Oak Engineered Wood Floors with Rounded Bull Nose
Painted risers are a modern/western look where the vertical portion is painted, often in white or the same color as the walls/trim of the stairwell. The two-tone look is extremely popular compared to the wood plank risers and really makes the floors pop!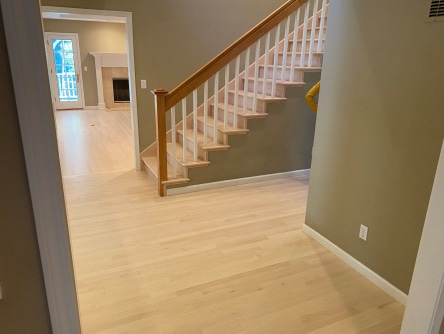 Open Stairwell with Rounded Bullnose and Wood Board Risers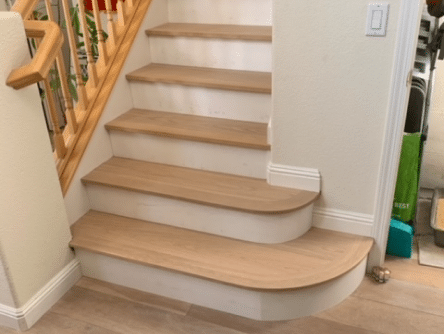 Painted Board Risers
Lighting can also be added to the wood risers for safety and aesthetics – with plenty of options. A patterned tile or luxury vinyl can also be applied to the stair riser for an exotic look!
Hardwood can be noisier and more slippery than carpeted stairs. However, they will be easier to clean than carpets.
They will also be more costly than carpet and even more expensive than hardwood in other parts of the home. Stairs come with extra labor and require additional materials to account for all the custom, meticulous cutting and measuring required to perfectly fit each step and contour. As you might imagine, installing wood floors on stairs requires expert-level installers.
More: Learn more about hardwood flooring here.
Carpeted Stair Runner
The carpeted stair runner on a wood floor (or other non-carpeted floor) is a popular and elegant choice that marries the two options above in a different way.
The stair runner gives you all the benefits of the carpeted stairs, but also provides an elegant transitional look from your hardwood downstairs to carpet upstairs. The runner can also be extended into the upstairs floor, such as down a hallway.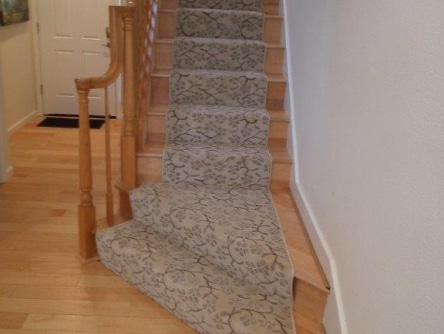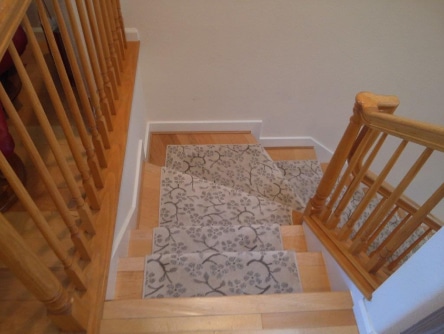 Just like fully carpeted stairs, carpeted stair runners give you lowered noise levels, warmth/comfort, more traction/safety, all while minimizing the challenge of vacuuming the extra corners.
Alternative Floors
With any staircase, you must consider what floors are installed or will be installed in the rest of the home, both upstairs and downstairs.
With that said, some great alternatives that can go on stairs include luxury vinyl flooring (luxury vinyl tile/luxury vinyl plank) and laminate flooring.
Both are great options but need to be harmonized and carefully paired with the rest of your floors. For example, solid hardwood downstairs with laminate stairs will be nearly impossible to match.
Luxury Vinyl
Luxury vinyl on stairs is a great option for cleanability and durability. Vinyl with texturing can also be selected, making them less slippery than wood/laminate. They are more affordable than wood due to material costs.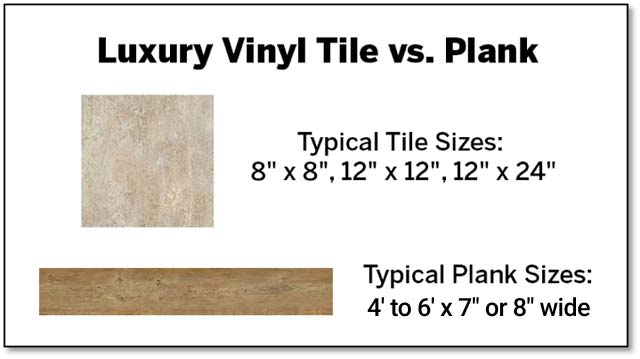 Luxury Vinyl Tile and Plank Flooring Comes in a Variety of Shapes, Sizes, Patterns, and Textures
Some luxury vinyl comes in planks (luxury vinyl plank or LVP), ideal for stairs, while others come in tiles (luxury vinyl tile or LVT). In both cases, cutting will typically be required but various designs and patterns can be constructed, like borders or alternative patterns. The exact look needs to be matched and considered with the other floors, as previously mentioned.
Vinyl is going to be more difficult to remove than carpeting, as it is glued down to the subfloor. Vinyl is also a more affordable option that wood.
The bull nose for stairs with luxury vinyl will typically be rounded. Very few brands offer square stair nose options.
More: Read more about luxury vinyl floors here.
Laminate
A popular flooring option that went away but is coming back is laminate flooring, especially the modern laminates now available. Laminate is much more affordable than hardwood and a little less than luxury vinyl, but still remains quite durable.
All the same design considerations and options come into play with laminate including bull noses and risers.
A carpet runner is not recommended for vinyl or laminate floors, as these products will be damaged beyond repair when the runner is nailed or stapled to them. Wood floors, on the other hand, can be patched and refinished if the carpet runner is removed.
More: Read more about laminate flooring here.