Other Added Benefits of Cork Flooring
Healthy Floors
Because of its unique cellular structure, cork is naturally resistant to moisture and stains. It locks air into each single cell, making it completely impenetrable to microbes, bacteria, moisture that causes mold and mildew, allergens, insects, and other pests. When you think about the amount of everyday contact people have with flooring in their environments (especially children), cork is a clean, healthy choice for flooring.
Valued For Acoustic Properties
Cork floors are popular for apartments, townhomes and condominiums—especially where privacy is valued. One of our suppliers, Wicanders, has utilized the natural shock and sound properties of its Cork Oak to develop AcoustiCork.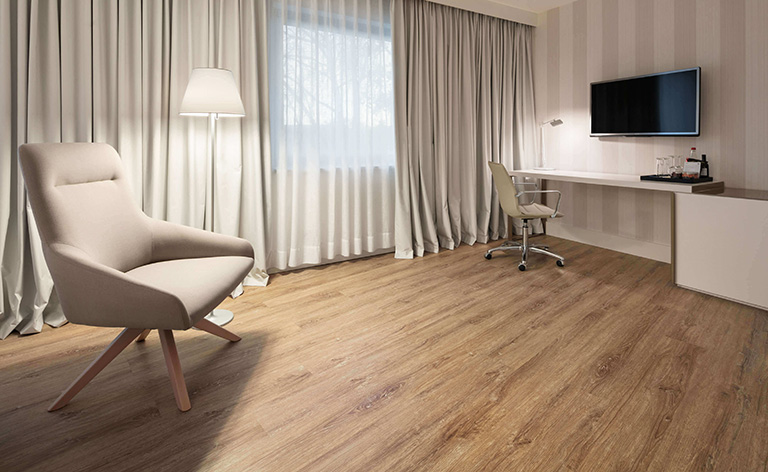 Is It Possible to Refinish a Cork Floor?
Yes, but it's not easy. Cork floors can last years, but sometimes refinishing them is important to extend the useful life or repair them after damage. Refinishing solid cork floors is much easier than refinishing veneer cork floors. There are two common ways to refinish a cork floor.
They are:
#1: Reapplying polyurethane without changing the color of the cork
If a cork floor had a layer of polyurethane on top, then a simple finish with polyurethane can be done. Before reapplying polyurethane, it's important to know the specific finish that was applied to the cork floor. If polyurethane was used, then it can be used again to refinish the cork floor. The process starts with washing and rinsing the floor well and then scuff-sanding the entire floor without cutting through the existing varnish. Then re=applying the polyurethane will be the next step. However, if your floor has ever been waxed, the floor will need to be stripped and resanded, which brings us to option 2.
#2: Sanding the entire floor
Important note: Make sure the cork you want to refinish is uniform through the entire room before sanding. If there are any veneers it will be very easy to sand through the veneer and destroy the cork floor.
How to Sand Cork Floors
Cork flooring is sanded by using a drum sander with 60-80 grit sandpaper. Although cork floors should last years with basic maintenance, refinishing a cork floor can extend its useful life. Before attempting sanding, it's important to be sure that you have solid cork floors and not cork veneer floors. Veneer floors cannot be sanded before refinishing, making it impossible to remove scratches that have damaged the underlying cork.
You can go with or against the grain of the wood, and you start sanding your cork floor by walking from one wall to the wall on the opposite end of the room with the orbital sander. Then you continue to sand in rows between the two different walls. After you do this you turn your sander 90 degrees and sand across the rows you just sanded to ensure you get an even sand.
After sanding, the staining comes next. Since cork floors absorb stains very well, a water-based stain with light coats is used to make sure the right final color is achieved.
Cork Flooring Pros and Cons
There are a number of pros and cons when it comes to using cork flooring. Cork flooring can be a great fit for you if the pros outweigh the cons.
Here are the pros and cons of using cork flooring:
Pros:
Easy installation
Easy to maintain
Soft, cushioned surface
Good insulator
Can be refinished
Hypoallergenic, anti-microbial, & eco-friendly
Environmentally Friendly
Cons:
Susceptible to damage
Divots from heavy furniture & appliances
Easily damaged by pets
Requires water sealing
Can fade in sunlight
We Carry These Cork Flooring Manufacturers
We take pride in offering very high-quality products from reputable companies to our customers. If it's not good enough we don't use it let alone recommend it. At Slaughterbeck Floors, we are proud to carry the Wicanders Cork GO & Essence products, and the Duro Design products. Wicanders and Duro Design produce amazing products that we've been using for years.


At our Campbell showroom, we carry 800+ samples of floor coverings.
Visit us at 730 Camden Ave. in Campbell, CA. Call us at (408) 379-5813