Epoxy Flooring
Sustainable, Safe, and Affordable Flooring for Your Next Project
Epoxy floors are great for being applied to concrete floors. They are a great choice for commercial applications. Some of the best applications for epoxy floors can involve projects like a garage, a basement, a commercial kitchen, commercial bathrooms, industrial locations (warehouses for example), and commercial spaces (restaurants, office locations, etc.). Anything with a concrete floor could benefit greatly from our epoxy floor options. Any floors that are slippery or could be prone to slips and falls are great candidates for epoxy floors.
Epoxy floors can be any color, usually grey or blue, and they are custom-designed for slip resistance. Without the epoxy a floor could crack, grow mold, and increase your energy costs due to a lack of insulation. If you are looking to prevent cracks, prevent moisture from producing mold, a durable floor, then epoxy is the way to go. We've put together a few reasons why epoxy floors are great for your next floor.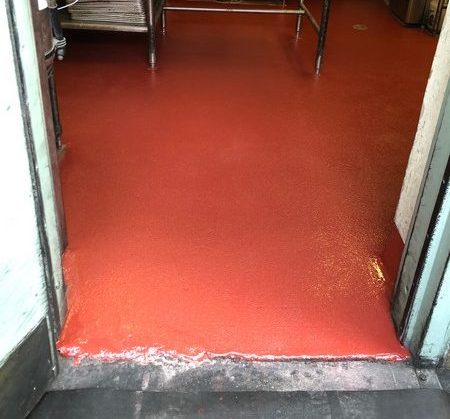 This epoxy floor was applied in a restaurant storage area by Slaughterbeck Floors
Epoxy Flooring: One of the Most Durable, Safe, and Energy-Efficient Flooring Options
Epoxy floors are commonly used in commercial situations because it provides a floor that stays clean, stays safe, and can support heavy loads and high impact. It makes a great flooring choice compared to other materials you can choose from.
Before Epoxy Floors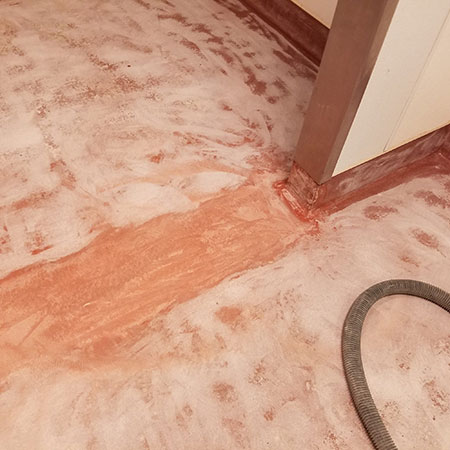 The restaurant floor before epoxy application.
Without epoxy floors, the wear and tear of a floor becomes very noticeable and it can become a hazard to you and everyone around you. As you can see in the restaurant kitchen floor above, the floor looks run-down, is unsafe, and definitely needs repair. The owners decided to work with us to apply epoxy floors over their concrete that allow the floor to be durable, safe, and energy-efficient.
After Epoxy Floors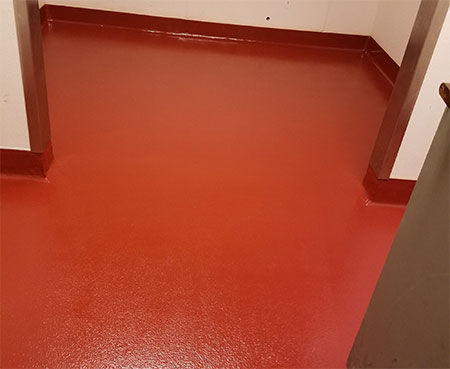 The restaurant floor storage area after our epoxy application.
The floors at the restaurant were improved by our custom epoxy floor application, and now the floor is safe, better-looking, durable, and ready for whatever comes at it. We were able to match the colors of the restaurant to make sure it fit within their aesthetic and decor. These kinds of custom projects are what we love to do at Slaughterbeck Floors.
We have many options to choose from when it comes to epoxy flooring. We can work with you to bring your vision to life, we can match your decor and interior design, and even improve the look and feel of your home. We can work our magic to use epoxy flooring to make your home look even better than you can imagine. If you're interested in our epoxy floor options, connect with us so we can provide some options that can work for you.