Linoleum
What is Linoleum Flooring?
Linoleum is a durable, water-resistant floor covering made of natural materials such as linseed oil, sawdust, cork powder, and jute. The specific materials used vary by manufacturer, however. It was first discovered by inventor Frederick Walton and became a very popular floor covering for high-traffic areas in businesses and homes throughout the late nineteenth and early twentieth centuries. Once cheaper options like vinyl flooring began taking over during the 1950s, it was still favored in kitchens throughout this time and has seen a resurgence in recent years.
What is Linoleum Used For?
It's not just for your grandmother's kitchen floor anymore! Linoleum can be installed in one single color or designed with inlays, borders, or designs to create a personal floor unique to your home. Surfaces can be more like museum-worthy modern art, abstract and colorful. Forbo's Marmoleum and Artoleum are two top linoleum brands we recommend.
Benefits of Marmoleum & Artoleum:
Easy maintenance
Hygienic properties (bacteria-resistant)
Extreme durability (long-lasting)
Environmentally friendly materials
Cost-effective
What is Linoleum Flooring Made Of?
Linoleum is typically made from renewable natural raw materials, making it one of the most environmentally compatible floor coverings available today.
Since linoleum is so versatile as a flooring option, there are many customization options available. For example, a custom border feature like the one below really made the new floors "pop" for one of our customers. If you're interested in installing affordable linoleum floors while also getting a luxurious customized look, we are the right flooring company to talk to!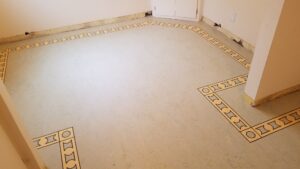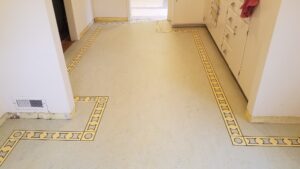 Contact us and talk to one of our experts about where to buy linoleum flooring.