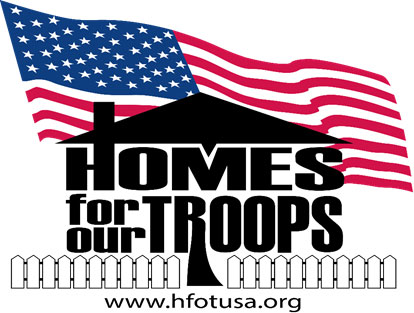 To build mortgage-free, specially adapted homes nationwide for severely injured
Veterans Post-9/11, to enable them to rebuild their lives.
We are proud that one of our flooring manufacturers, Armstrong, is involved in a program that builds houses for wounded Veterans!
About Homes for Our Troops
Homes for Our Troops (HFOT) is a privately funded 501(c) (3) nonprofit organization building specially adapted, mortgage-free homes nationwide for the most severely injured Veterans from Iraq and Afghanistan. Most of these Veterans have sustained injuries including multiple limb amputations, partial or full paralysis, and/or severe traumatic brain injury (TBI). These homes restore some of the freedom and independence our Veterans sacrificed while defending our country, and enable them to focus on their family, recovery, and rebuilding their lives. Since its inception in 2004, nearly 90 cents of every dollar donated to Homes for Our Troops has gone directly to our program services for Veterans. HFOT builds these homes where the Veteran chooses to live, and continues its relationship with the Veterans after home delivery to assist them with rebuilding their lives
Corporate Partners

Established in 1860, Armstrong World Industries, Inc. today is a global leader in the design and manufacture of floors and ceilings. Based in Lancaster, Pa., Armstrong operates 32 plants in eight countries and has approximately 8,500 employees worldwide. Armstrong, as the exclusive flooring supplier to HFOT, will donate floors for all the specially adapted homes built across the country through 2016. A portion of the sales from the company's new American Scrape collection will be dedicated to supporting this effort. American Scrape features richly textured hardwood floors, inspired by the beauty of the American landscape, and each floor is made in the USA.
Armstrong offers hundreds of floor covering options for people to choose from. Its hardwood floors are available in many popular wood species, from classic oak to exotic tropical hardwoods. Prefer ceramic tile, but don't like the cold, hard surface? Check out the company's luxury vinyl flooring collections with a variety of tile, stone, slate and wood looks – and a soft, warm feel underfoot. Armstrong also offers stylish and easy-to-clean vinyl sheet and vinyl tile floors, and rounding out the offerings, laminate and linoleum floor coverings.
Visit our flooring showroom in Campbell, CA to view Armstrong's exquisite collection of sheet vinyl and vinyl tile flooring.