Christmas Tree Tips to Protect Hardwood Flooring
Christmas trees can damage your hardwood floor with unsightly scratches, sap stains and water spots!
Follow these handy tips to make sure you don't have to hire Slaughterbeck Floors to sand and refinish your whole floor for the New Year!
Before bringing the tree into your home shake it, gently, to help get rid of some of the loose needles that could be stepped on, causing scratching.
You should also drag the tree in on an upside-down bathmat rather than carry it to further minimize needles dropping onto the floor.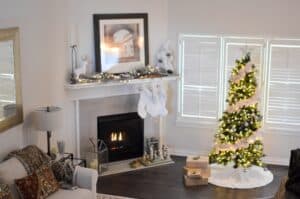 What to Put Under the Christmas Tree to Protect Your Floor
On the tree's location, put down an old folded sheet or blanket first to protect the floor. Then, place plastic (such as a cheap plastic tablecloth) over the old sheet or blanket to protect it from water damage. Finally, use a tree stand, placing it on top of the plastic.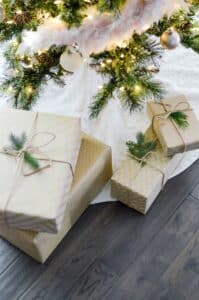 Even when the best precautions are taken, accidents can still happen! If you need to fix any hardwood flooring damage done this holiday season (from Christmas Trees or anything else), contact Slaughterbeck Floors.