There has been some confusion between the different terms revolving around vinyl floors. Some call
them polyvinyl floors while others refer to them as PVC floors. Additionally, vinyl floors are also known as vinyl composition tile flooring and luxury vinyl flooring. Well, what are the differences between all
these floor coverings?
What is PVC Flooring and How is it Related to Vinyl Flooring?
PVC flooring or polyvinyl flooring is none other than alternative terms for vinyl flooring! PVC stands for polyvinyl chloride, which is the material that makes up vinyl flooring. Thus, it is often shortened to polyvinyl flooring or simply, vinyl flooring, the most common term for this particular floor covering.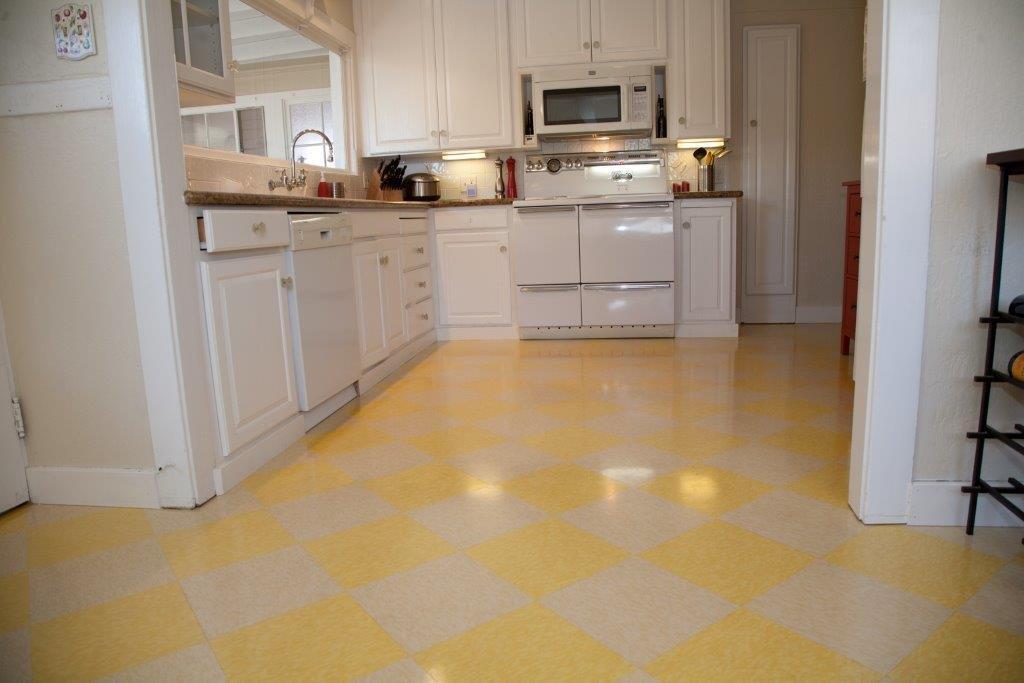 Vinyl Flooring in a Checkerboard Pattern Installed by Slaughterbeck Floors in a Kitchen Located in San Jose, CA
What are the Differences Between VCT Flooring and LVT Flooring?
While vinyl flooring is a general and broad term for the type of flooring, VCT flooring and LVT flooring describes the specific style of vinyl flooring.
Vinyl composition tile flooring is typically known as VCT flooring. It is the traditional style of vinyl flooring that has been around for decades. These are sometimes available as vinyl sheet flooring.
Luxury vinyl flooring is known as either LVT (luxury vinyl tile) or LVP (luxury vinyl plank). These are the modern improvements of vinyl flooring that offers superior durability and designs that can impeccably mimic the appearance of wood, stones, marble, and ceramic floors.
Have Additional Questions?
Contact us or visit our flooring showroom in Campbell, CA to learn more about vinyl flooring and see samples of various vinyl floors we offer!