Hardwood floors have always been one of the most coveted floor coverings for their attractive timeless beauty and simple cleaning. Even so, hardwood flooring manufacturers continue to raise the bar and create innovative hardwood floors with advanced functionality and fresh new styles.
The latest wood trend that has been captivating homeowners is long and wide plank hardwood flooring. This new style offers a modern twist to traditional hardwood floors.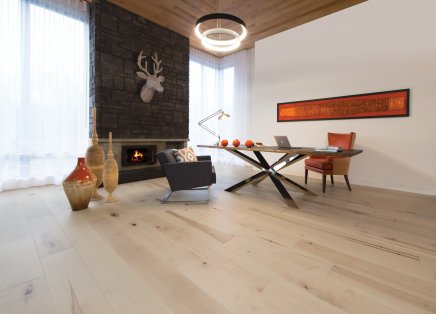 Long and Wide Hardwood Plank Flooring by Mirage Floors – Maple White Mist Light Character in the Flair Collection
Beautiful Emphasis on the Wood
With longer and wider boards, the distinctive natural patterns and textures of the wood are more visible. Additionally, with larger wood planks, less boards are required to fill up the room. Therefore, there are less visible joints to distract your attention away from the intrinsic characteristics of the wood.
A Sense of Openness
Not only are the appearances of long and wide plank wood flooring more enhanced, the longer and wider boards can create a sense of openness, which makes a room appear bigger and more spacious. Thus, wide plank flooring is increasingly becoming a favorite, especially for large open house plans.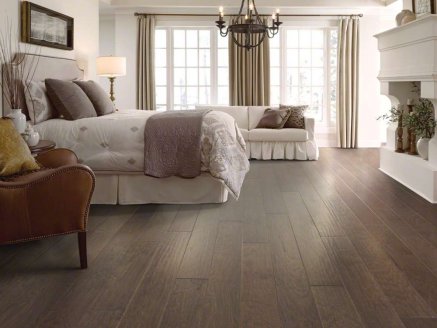 Wide Wood Plank Floors by Shaw Floors – Continental Hardwood Floors in the Color Espresso
See them at Slaughterbeck Floors!
You can find a variety of long and wide plank hardwood floors at Slaughterbeck Floors. With wood collections from our own Signature Lines to popular manufacturers like Shaw, Mirage, and Lauzon, you can be sure to find the perfect wide plank wood floors for your home or business.
Visit our Flooring Showroom in Campbell, CA to see more.