Bamboo Floors
June – Featured Floors
Bamboo floors are beautiful additions to your home. They offer a unique touch of elegance, while having the strength that you need in order to maintain a busy household or office.
This cost effective flooring is a very popular option for many of the reasons listed below, but also because of how attractive and simply beautiful it is. Bamboo flooring is a renewable resource that can make any home warm and environmentally friendly.
Horizontal and Vertical Bamboo Floors by Reward Flooring
Naturally Stable for Unmatched Durability
Bamboo flooring has the compression strength to withstand heavy traffic areas, as well as the wear and tear that children and pets can put on a floor. While it is exceptionally durable, it will not be as hard on your legs and feet as standing a concrete floor or hardwood flooring.
Because bamboo grows in such tropical high heats and is a renewable resource, it is able to withstand extremely hot temperatures. It's dimensionally stable; therefore, it does not swell or contract like hardwood and it's a great choice for rooms that continually have hotter temperatures like kitchens and laundry rooms. It's also a great choice in humid temperatures.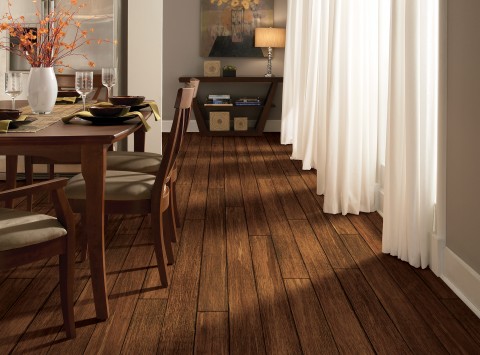 Expressions Vintage – Sambucca Bamboo Floors by USFloors
Highly Sustainable Natural Resource
When you decide to go with bamboo flooring, you have made an environmentally protective choice. It's one of the most eco-friendly flooring options available and is a great choice for those who practice being green.
Bamboo is cut above the roots; therefore, it neither harms the plant nor requires replant. After being harvested, the plant regrows quickly and is regenerated, making it a green and renewable resource.
Because it's a product of nature, bamboo floorings are unique in style and are an elegant choice for most rooms in your home. It can easily warm up a room and make your home one that is admired by visitors.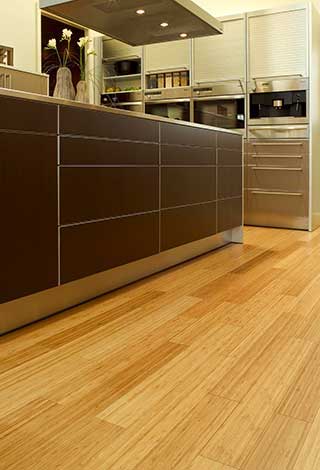 Elements – PureForm Bamboo Floors by Teragren
A Wide Array of Possibilities to Choose From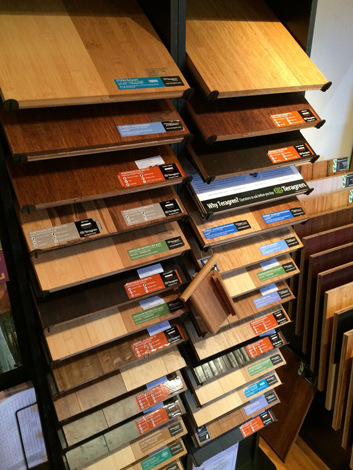 Bamboo Flooring Samples at Slaughterbeck Floors' Showroom
There are many options to choose from as bamboo floor coverings come in a variety of styles and textures:
Carbonized bamboo: This style of bamboo gets its color by caramelizing sugar within the bamboo using steam which produces a rich color that people desire in their homes.
Hand scraped stained bamboo: This offers a finish that is elegantly contoured. The grooved look of the flooring is a wonderful choice for those who love a rustic and unique style.
Strand bamboo: The hardest and most dense option available. The shredded bamboo fibers are compressed using heat. The end result is a beautiful floor that has the strength to withstand the heaviest of traffic areas in your home.
Natural bamboo: This is exactly what it sounds like; it is non-carbonized and non-stained, so you get all of the elegance of bamboo in its natural state.
Visit our showroom to view samples and compare all the different types of bamboo floor coverings to see which style is perfect for your home!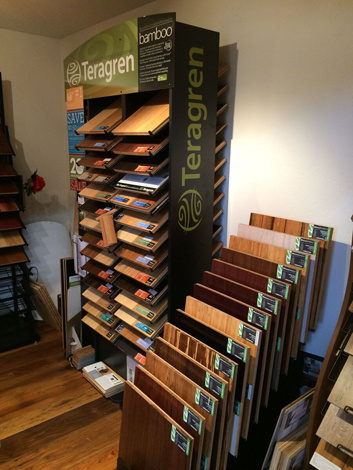 Bamboo Flooring Samples at Slaughterbeck Floors' Showroom