Mirage Floors
Mirage Flooring is known for its quality as well as its longevity. They have been producing beautifully-crafted hardwood floors for over 30 years that are proven to stand the test of time. Their commitment to the environment ensures that their products are produced using wood harvested from responsibly managed forests, a value Slaughterbeck Floors commends.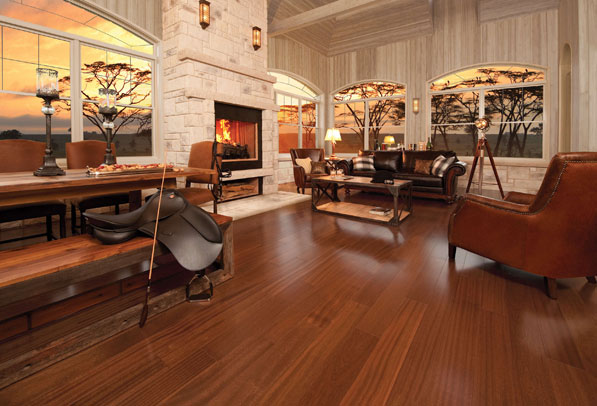 Exotic Collection – African Mahogany Brass by Mirage Floors
When you choose Mirage hardwood floors for your home, you are choosing a wood flooring that is versatile and healthier than many other wood options on the market. Mirage's hardwood floors have a hypoallergenic finish that makes their hardwood safer for your home. On top of all that, Mirage's floors are chosen by 1,500 families per week, giving you the peace of mind that you're picking up great products.
If you're looking for Mirage Floors in San Jose and surrounding areas, visit our flooring store in Campbell to take a closer look at what Mirage has to offer!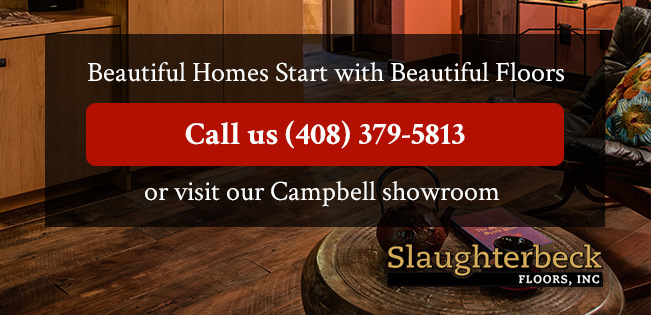 Unmatched Advantages of Mirage Floors
Mirage hardwood flooring is a great investment for those who want sturdily constructed engineered hardwood floors that come in a wide variety of styles and colors (check out some hardwood flooring styles). The vast amount of choices available in the Slaughterbeck Floors showroom can make choosing the right hardwood floor very tough.
Mirage makes it just a little easier by truly standing out on our showroom floor with the many different types of finishes that are available. Check out some hardwood floor finish types.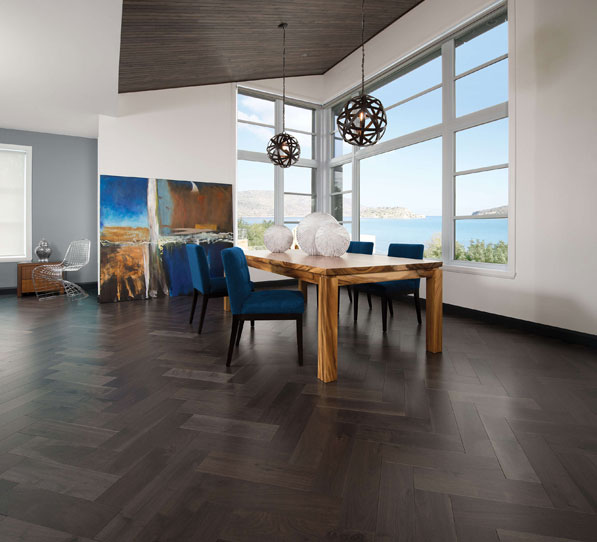 Herringbone Collection – Knotty Walnut Charcoal Herringbone by Mirage Floors
DuraMatt Finish
If you are looking for hardwood flooring with a traditional "oiled-look" without the pains of regular oil application for your home, then this finish is the perfect fit. DuraMatt presents a beautiful matte finish that can truly bring out the natural beauty of the hardwood. This finish is treated with an antimicrobial agent, which helps foster a cleaner environment. In addition, DuraMatt is 20 times more wear resistant than a conventional oiled floor, which greatly contributes to its aversion to stains and scratches.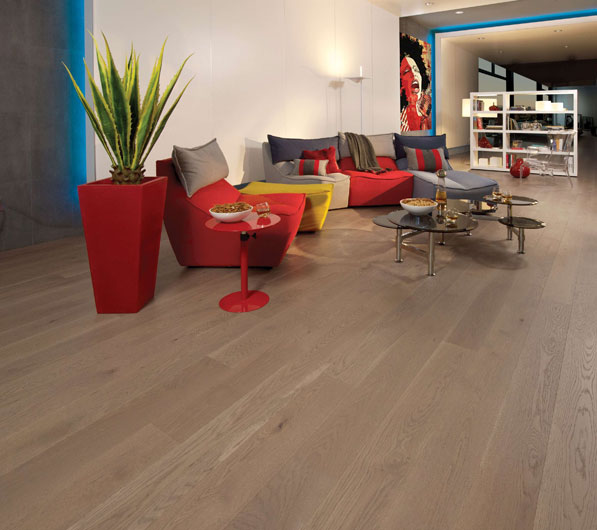 Flair Collection – White Oak Sand Dune Light Character by Mirage Floors
Nanolinx HD Finish
For those looking to take their home's prefinished hardwood floors to the next level, Nanolinx HD Finish by Mirage Floors is a great investment. Nanolinx HD is a revolutionary breakthrough that uses nanotechnology to effectively enhance the composition of the coating; thus, resulting in a finish that is not only clean and highly wear-resistant, but also UV protected. The UV protection is an important feature that reduces wood damages such as yellowing and cracking from prolonged sun exposure. Nanolinx HD is an excellent choice for homeowners who want to protect their investment without sacrificing functionality.
Nanolinx HD finish comes in two varieties of gloss:
Semi-Gloss: This gloss is typically the standard for prefinished hardwood floors because its medium-bright finish helps intensify the color of the floors.
Matte-Cashmere: This gloss gives the flooring a matte but silky look. It's practical for high traffic areas, offering great durability and easy maintenance.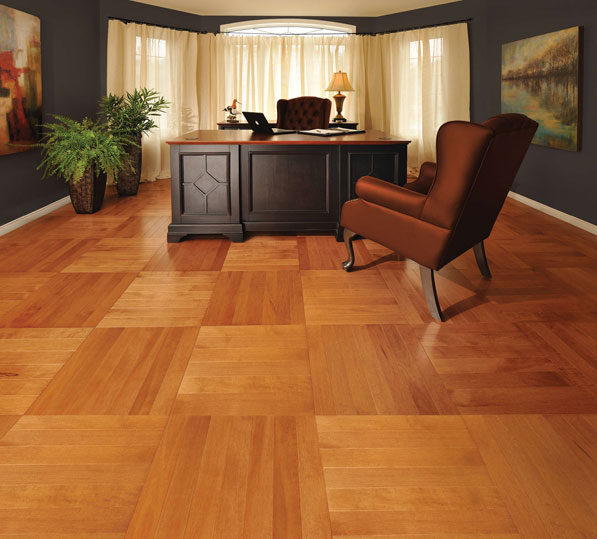 Admiration Collection – Maple Nevada by Mirage Floors
Nanolinx Commercial Finish
The Nanolinx Commercial finish is the best bet for those in need of hardwood floors for their commercial business or any high-traffic areas in their home.
Specially designed for commercial use, this finish provides a superior layer of protection on hardwood floors with its extreme resistance to wear and tear, as well as a hygienic antimicrobial coating that is easy to clean and maintain. When compared to other commercial hardwood finishes on the market, Nanolinx Commercial finish is 50% more wear resistant than most; therefore, giving you the ease of mind that your valuable floors are optimally protected.
Sweet Memories Collection – Handcrafted White Oak R&Q Treasure by Mirage Floors
Benefits of Prefinished Hardwood Floors
Prefinished hardwood floors allow a much simpler and faster installation process than traditional hardwood flooring. Traditional wood flooring installation requires sanding, sealing, staining, and applying a finish. All these steps are time-consuming and can be harmful to your health; therefore, the family and furniture must move out of the home during the installation process. This is one of the major disadvantages of unfinished hardwood floors.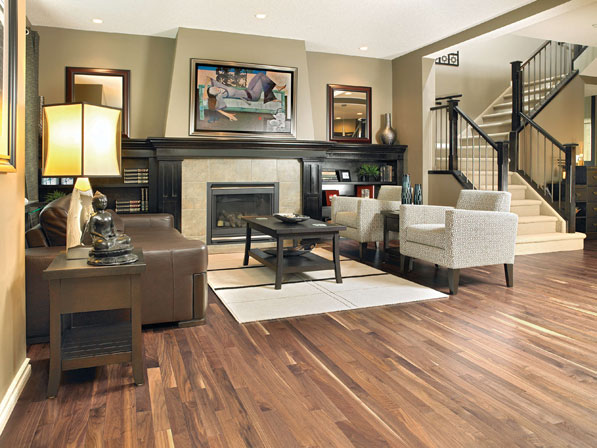 Natural Collection – American Walnut by Mirage Floors
On the other hand, prefinished hardwood floors arrive at your home fully prepared by the manufacturer and are ready to be installed. Thus, you don't have to worry about moving your family out or cleaning up the dusty mess. Most installations are done in one session and the best part is, you can walk directly on your new floors immediately.
Visit Slaughterbeck Floors Today!
Contact us to learn more about the advantages of Mirage Floors or if you have any questions. Our friendly and knowledgeable staff would be happy to help you find exactly what you need.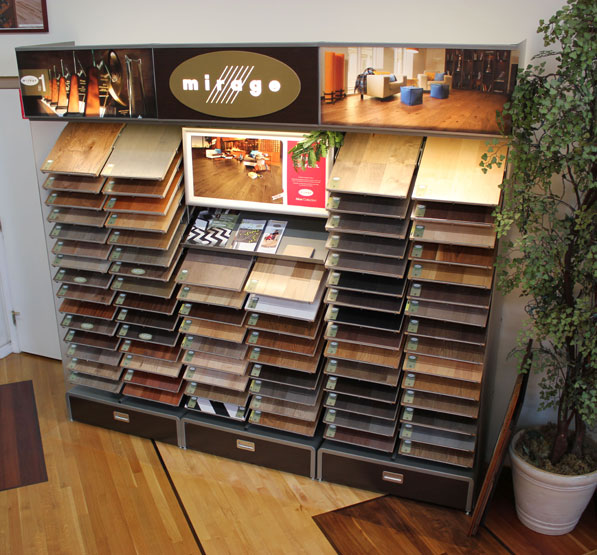 Mirage Floors Display in SlaughterBeck Floors' Showroom in Campbell, CA