Somerset Hardwood Flooring
April – Featured Floors
Somerset are experts in the wood business – with over 20 years of experience in manufacturing quality Appalachian lumber and unfinished flooring, and now they offer the finest quality prefinished hardwood floors. They have built a strong reputation in the hardwood industry using the finest natural hardwood in America – Appalachian hardwood.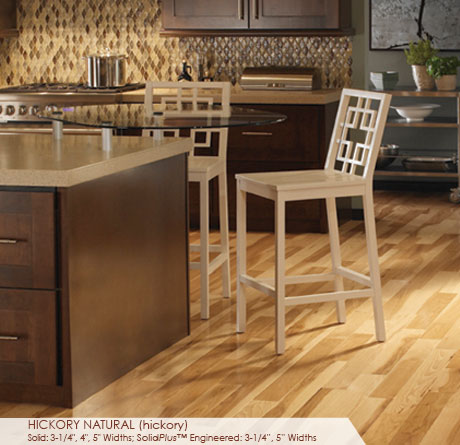 Specialty Collection – Hickory Natural by Somerset Hardwood Flooring
Your home needs the finest hardwood floors, not just for show, but also for durability. Somerset hardwood floors are manufactured at the heart of the Appalachian timberlands, central Kentucky. Quality control is well practiced all throughout the entire process of manufacturing hardwood floors from Somerset's own lumber manufacturing, drying, milling, and floor finishing – giving you the right quality that your home needs. In addition, Somerset hardwood floors are domestically manufactured in America, which further gives you an ease of mind that you are purchasing a high quality product that meets all USA safety standards.
If you're interested or dying to see the timeless quality of Somerset, visit the Slaughterbeck showroom in Campbell, CA today and see traditional craftsmanship at its finest!
Crafted from Quality Appalachian Wood
With the combination of ideal climate and healthy soil, it's no secret that lumber found on the Appalachian Mountains is superior in quality. Appalachian wood has been consistently awarded the highest grade and quality rating and no one can deny that!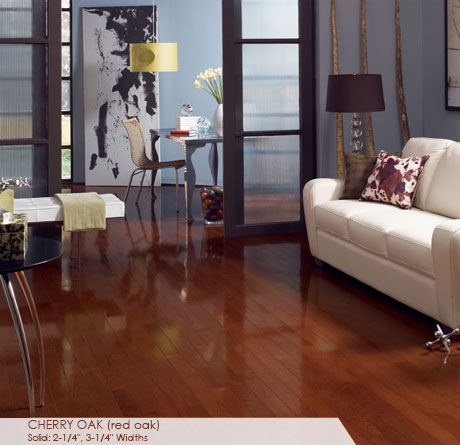 High Gloss Collection – Cherry Oak by Somerset Hardwood Flooring
Basically, it's known for its primary characteristics:
Strength
Durability
Clarity and consistency in grain patterns
This made Appalachian wood perfect for luxurious wood flooring and home furnishings. It's no doubt that Appalachian hardwoods are only for those who want the best quality hardwood flooring.
Quality Control
Somerset is one of the largest manufacturers of Kiln-Dried Appalachian hardwoods in America. They handle everything from managing their own timberland to manufacturing prefinished and engineered hardwood floors. Aside from that, they integrate strict quality control, which guarantees you of the consistent quality of their hardwood flooring from start to finish.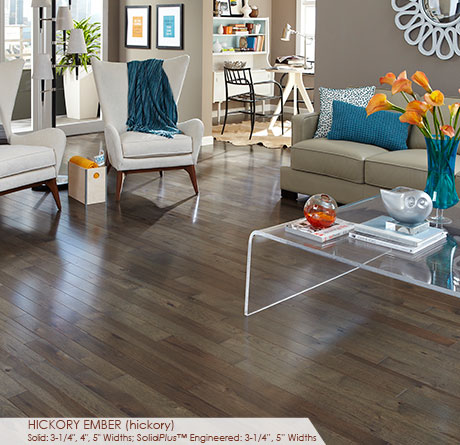 Character Collection – Hickory Ember by Somerset Hardwood Flooring
Their manufacturing plants are equipped with state-of-the-art machinery that maximizes and maintains the quality of Appalachian wood – all throughout the manufacturing process. Lumber is also graded before and after kiln-drying by NHLA certified graders, making sure that you only get the quality that you deserve. With the entire production process in the America, Somerset hardwood floors are guaranteed to meet safety standards. That's the Somerset advantage!
Versatile Collections for any Homes
Somerset has one of the most versatile hardwood collections. With a variety of finishes, textures, and plank sizes, we're sure you'll find something that's perfect for your home whether you're going for the modern, contemporary feel or classic elegance.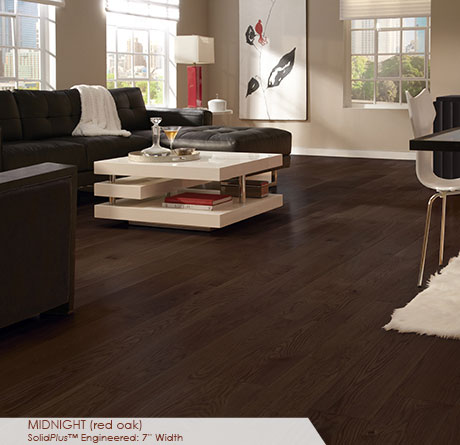 Wide Plank Collection – Midnight by Somerset Hardwood Flooring
Get an idea of the variety of hardwood floor collections Somerset offers:
Color StripSolid Appalachian oak flooring in the most popular stain colors. This collection is for those who want a natural wood appearance with a colored twist!
HomestyleSolid Appalachian oak flooring with four-sided eased edges that will give any room a very homey feel.
High GlossSolid Appalachian oak flooring with a higher gloss finish. Great for those who prefer the extra shine on hardwood floors.
ClassicSolid Appalachian oak flooring with a lightly textured surface. This timeless style gives a more durable and traditional appearance. Who doesn't love the classics?
CharacterSolid Appalachian oak flooring with natural markings, knots, and variations in grain and color. If you're looking for a hardwood flooring that boasts with unique character, this collection is perfect for your home!
SpecialtySolid Appalachian hickory and maple flooring. These are elegant alternatives to traditional oak flooring. We're sure you'd love them too!
Wide PlankExtra wide Appalachian flooring in oak, maple, and hickory. Wide planks have become a popular trend in contemporary homes.
Color PlankSolid Appalachian oak flooring in plank widths and the most demanded colors. A great choice for those looking for plank sizes in between traditional & wide planks.
Another noteworthy fact about Somerset is that all their wood products are harvested only from their own well-managed forest. They're also FSC certified and an AHMI member, that will surely give you a peace of mind.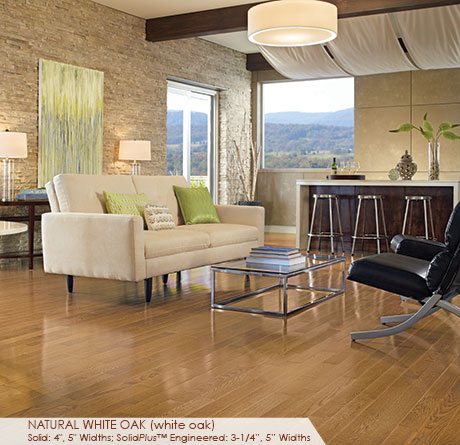 Color Plank Collection – Natural White Oak by Somerset Hardwood Flooring
Upgrade Your Home's Flooring to Somerset Hardwood Flooring Today
Well, what are you waiting for? Contact us and our friendly staff will be more than happy to help you get what you want – Somerset hardwood floors that will bring elegance & quality to your home!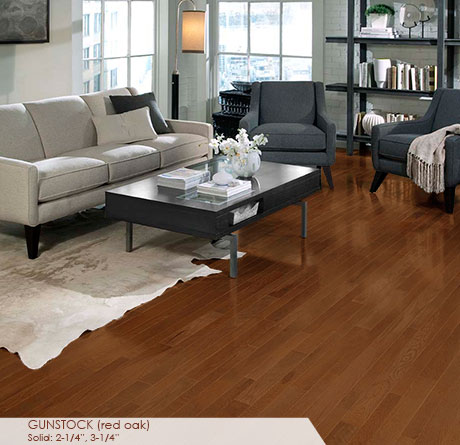 Homestyle Collection – Gunstock by Somerset Hardwood Flooring