American Made Flooring
July – Featured Floors
Floors made in the USA have become popular in recent years; more people are turning towards domestic manufacturing rather than settling with imported floors. American made floors have been winning the hearts of many Americans with their advantages from high quality to helping improving American economy.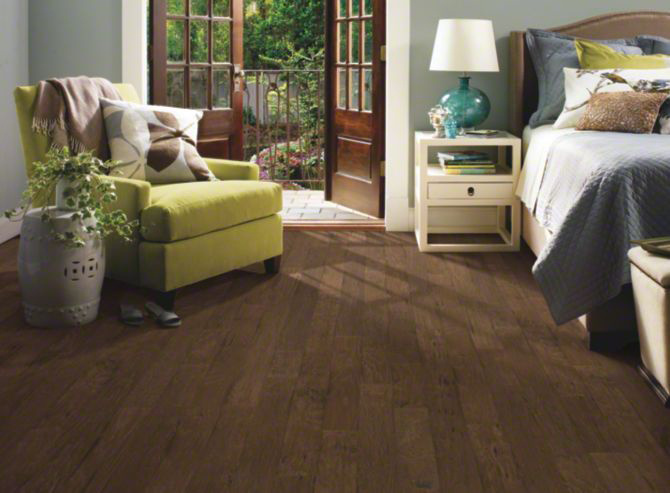 Pebble Hill Hickory 5 hardwood flooring made in USA by Shaw Floors
The Matter of Quality & Safety
Some of the most important aspects of flooring made in the USA are the high quality and safety standards that many imported floors fail to have. Domestic flooring manufacturers have a much stricter quality control of their products since the manufacturing process is easily accessible and monitored. On the other hand, overseas manufacturers often provide cheap floorings products at the cost of quality materials.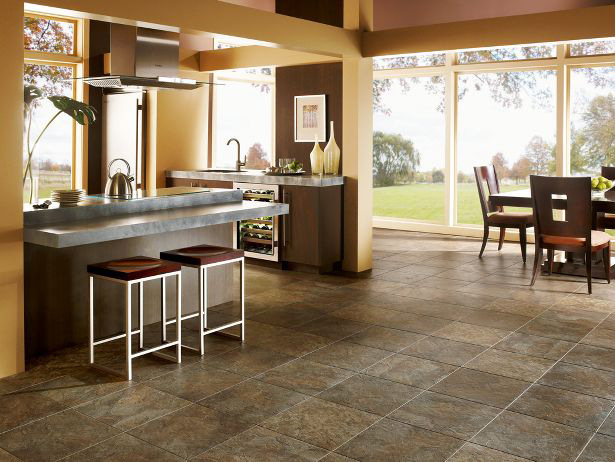 Luxury Vinyl Tile by Armstrong
Flooring products tend to have certain chemicals in them; some are poisonous at high levels. All floors made in the USA undergo strict and rigorous regulations to ensure toxic chemicals are low and beneath the standards. This regulation ensures American-made floors are safe for you and your family.
Imported floors do not have such regulations and often have low safety standards due to cheap productions. The unregulated toxic chemicals in imported floors could be detrimental to your family's health.
A recent example of this is Lumber Liquidators' Chinese laminates discovered to contain extreme levels of cancer-causing agent, formaldehyde. Laminate flooring made in the USA, on the other hand, from a reputed supplier like Shaw undergoes rigorous testing and quality confirmation.
Broad Impact Beyond Your Home
Floors made in the USA not only affect your home, but also the American economy. The domestic manufacturing of these floors offers Americans jobs and promotes economic growth.
In addition to showing your patriotism and pride for America, purchasing USA-made floors also shows your support for safe working environments and child labor laws that foreign labor laws often fail to protect.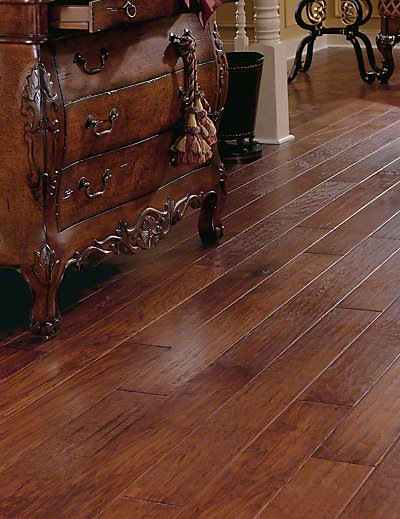 Virginia Vintage Hardwood by Anderson Floors
We Are a Proud Provider of Made in USA Floors!
We offer many American floors from hardwood flooring made in the USA to laminates, vinyl, and more. Visit our showroom to view samples of these USA-made floor suppliers!
Armstrong – Luxury vinyl tile, Man-made tile
Anderson – Prefinished hardwood
Mannington – Vinyl only
Marmorette by Armstrong – Linoleum
Mullican – Prefinished hardwood
Oshkosh – Prefinished hardwood
Shaw – Prefinished hardwood, carpet, laminate, vinyl
Sheoga – Prefinished hardwood
Summit – Prefinished hardwood
Virginia Vintage – Prefinished hardwood

Look for this flag icon next to the logos of our suppliers on our products pages to see which ones provide USA made products.