American Made Flooring
July – Featured Floors
Floors made in the USA have become popular in recent years; more people are turning towards domestic manufacturing rather than settling with imported floors. American-made floors have been winning the hearts of many Americans – they are, generally speaking, high-quality help to support our economy.
We've been featuring American-made floors at our flooring store in Campbell, CA for over 30 years now! If you're in the area, stop by to browse our hardwood flooring selection which features over 35 species of wood from 25 different manufacturers.
We also carry luxury vinyl flooring, carpeting, WPC (waterproof) flooring, cork flooring, marmoleum flooring, linoleum flooring, and more!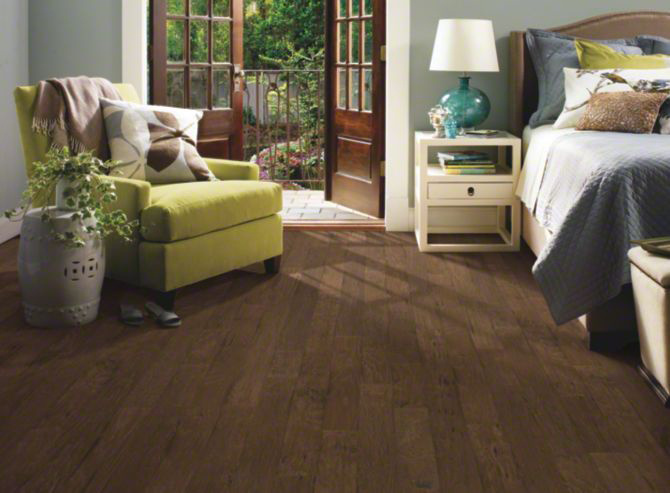 Pebble Hill Hickory 5 hardwood flooring made in USA by Shaw Floors
Why Is It Important to Buy American-Made Products?
Consumers love to buy American, and that message resonates more and more every day. Made in America has taken on a whole new meaning—for the jobs it creates, for the communities that can support themselves and thrive, and for community pride, and American pride.
Local retailers are responding with campaigns aimed at keeping those dollars in our communities. Several retailers are actively promoting Buy Local while tying it to their Made in America campaigns, and to good end. Together, Buy Local and Made in America can have a profound effect on how we live and work. Check out the special section on our website for flooring products made in the USA.
What Flooring is Made in the USA?
We offer several USA-made products throughout our many lines of flooring.
Flooring brands made in the USA include:

Look for this flag icon next to the logos of our suppliers on our products pages to see which ones provide USA-made products.
American-Made Floors Quality & Safety Standards
Flooring made in the USA is held to an extremely high standard of quality and safety that many imported floors fail to achieve.
American flooring manufacturers have much stricter quality control of their products since the manufacturing process from the lumberyard to processing is easily accessible and monitored. On the other hand, many overseas manufacturers often provide cheap flooring products at the cost of quality materials.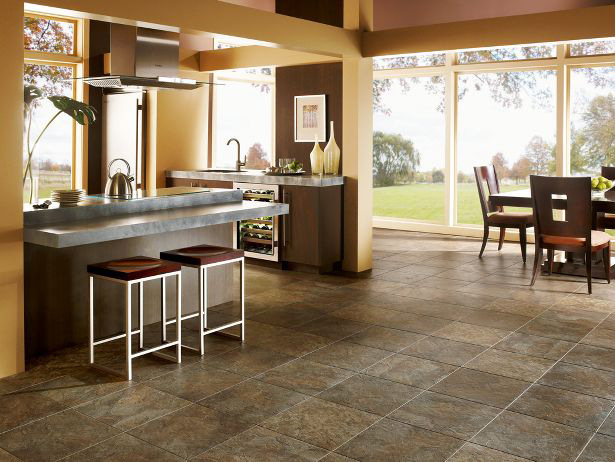 Luxury Vinyl Tile Made in the USA by Armstrong
Cheap floor coverings tend to have certain chemicals in them; some are poisonous at high levels.
All floors made in the USA undergo strict and rigorous regulations to ensure toxic chemicals are low and beneath the standards. This regulation ensures that American-made floors are safe for you and your family.
Imported floors do not have such regulations and often have low safety standards due to cheap production.
The unregulated toxic chemicals in imported floors could be detrimental to your family's health..
A recent example of this is Lumber Liquidators' Chinese laminates discovered to contain extreme levels of the cancer-causing agent, formaldehyde. Laminate flooring made in the USA, on the other hand, from a reputed supplier like Shaw undergoes rigorous testing and quality confirmation.
The Advantages of Made in America
Loyalty: Buying American-made products supports the US economy.
Style: Design teams are American with American perspectives.
Consistent Quality: While consumers may have doubts about products from overseas, goods manufactured in the United States are believed to be better. And, if there is a problem, domestic producers are accessible.
Faster Delivery: Typically, when a new product is introduced to the market, availability may have a long lead time for goods made overseas.
Cost Competitive: With labor costs overseas and shipping costs increasing, US goods are now becoming more competitive.
Made in America – it's more than just national pride; it makes good business sense. There are multiple benefits to manufacturing at home and the list is continuously growing; logistics are simpler- freight charges, turnaround time, and quality control—to name a few.
From a business standpoint, local manufacturing for local markets makes more and more sense. Transportation costs, supply chain management, environmental concerns, and understanding the local consumer tastes make it more simple and more efficient to manufacture in the home market.
Most major flooring companies have made domestic production part of their corporate strategy. This means they are maintaining jobs within the US economy, helping mitigate the potential impacts that come with the global transfer of raw materials and finished goods.
After weathering the recession, Americans today see it as their responsibility and duty to shop locally and buy domestically produced goods. That's why we have made sure you can find USA-made products on our website.
Broad Impact Beyond Your Home
Floors made in the USA not only affect your home, but also the American economy. The domestic manufacturing of these floors offers Americans jobs and promotes economic growth.
In addition to showing your patriotism and pride for America, purchasing USA-made floors also shows your support for safe working environments and child labor laws that foreign labor laws often fail to protect.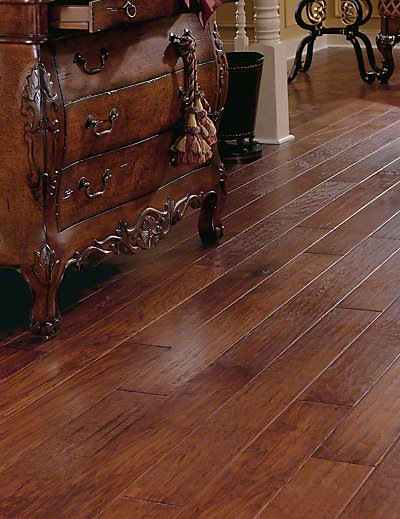 Virginia Vintage Hardwood by Anderson Floors
Are you in the Bay Area and interested in American-made flooring products for your home or business?
Contact Slaughterbeck Floors for a flooring quote today!